Disclosure: Some of the links in this post are affiliate links. That means that if you click on a link and purchase an item, we may receive an affiliate commission at no additional cost to you. As an Amazon Associate I earn from qualifying purchases.
Looking for the best metronomes to buy?
Want to improve your timing and practice your instrument right?
If you're a beginner-level musician, there are some concepts that you need to familiarize yourself with. One of the most vital things to know about is the use of a metronome.
Metronomes are incredibly useful for improving your timing and are one of the best practice aids you can buy. This is true whether you're a guitar player, a pianist, or any other type of musician.
If you don't know what a metronome is or if you're looking for the very best one, you're in the right place. In this article, we will tell you what a metronome is and what some of the most suitable metronomes are.
By the time you reach the end of this article, you'll know all about the best metronomes available on the market today.
Top Metronomes For Musicians – Quick View
What is a Metronome?
First of all, it's essential to tell you what a metronome is. A metronome is a device used often by musicians of different genres to mark time and keep the rhythm at the desired rate. It gives off a tick that indicates each beat.
The use of metronomes, especially for beginner level musicians, is of gargantuan importance. Without the use of a metronome, it becomes increasingly difficult to develop a sense of beats and rhythm. This is the reason why music teachers (both western and eastern) strongly recommend the use of metronomes to their new students when practicing scales or learning other musical techniques.
However, due to the increasing demand for metronomes, the market is flooded by thousands of products. Naturally, not all of them provide a high level of quality. Because of this, it's essential for you to know about the best options available so you don't have to cut through the noise on your own.
Best Metronomes on the Market Today – REVIEWED
In this section, we will tell you about the five best metronomes available in the market. Without any further ado, the following are the best options available in the market: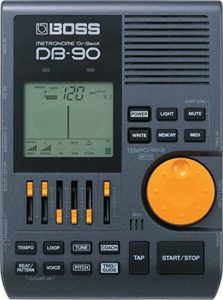 The first metronome on our list of the very best is the BOSS DB-90. This is a high-quality option that should serve any musician well and is more than just a simple metronome. It's a small beat machine that can be customized to your liking.
It can get boring playing to the simple beats that most metronomes have. With this metronome, you can tweak the volume of each beat and use quality sounds and drum patterns that will make your practice sessions more fun.
This metronome offers four different voices for helping keep a record of time. Also, you can customize the beats according to your tune.
BOSS is a multinational music brand that is owned and operated by Roland. It has the distinction of producing some of the best ever digital effects. Luckily, this product offers the quality that fans of Roland have come to expect.
Overall, this is a great metronome that can enable you to have the most effective practice sessions possible.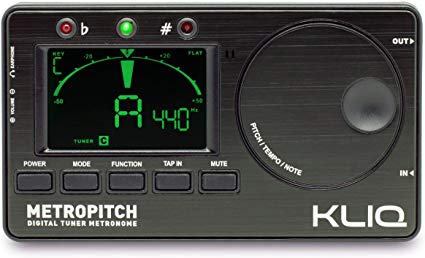 The next metronome on our list is the KLIQ MetroPitch Digital Tuner Metronome. The KLIQ MetroPitch is every bit as magical as its name and offers great functionality.
If you're looking to get your hands on a high-quality product without breaking the bank, this is the best option for you. This product is great because not only does it offer typical metronome functions but it also has a built-in tuner as well.
Overall, this is a great option for guitarists, pianists, and musicians of every kind. This is particularly great for anyone who wants a tuner and metronome all in one great package.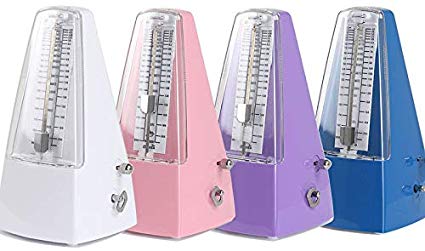 Another great metronome you'll want to consider in your search is the Cherub WSM-330. This is a high-quality mechanical metronome that will serve musicians well.
Founded in 1998, Cherub has produced some of the best musical products around. WSM-330 is one of these and does a great job of providing the typical metronome features.
The Cherub WSM-330 is a mechanical metronome that offers a BPM of 40-208. However, keep in mind that this is a mechanical metronome, so it doesn't have digital features.
Overall, if you prefer to have a mechanical metronome rather than a digital one, you can't do better than this.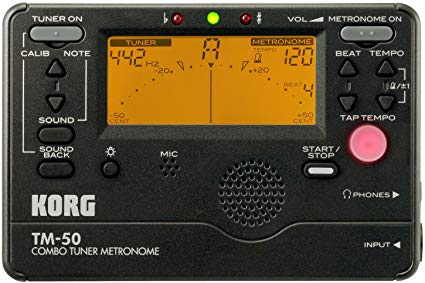 The Korg TM50 is another great metronome that musicians of all kinds would be happy to own. This metronome by Korg is another one of the best options in the market. This product offers a wide range of functionality at a great price.
It also has a feature of auditory feedback that can help musicians who do not like to stop in the middle of playing their instrument. It also has a sound back design that allows you to play in the same octave you're trying to tune into.
Overall, the Korg TM50bk is a great additional option to consider in your search for the perfect metronome.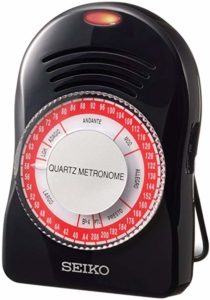 The final metronome on our list of the best metronomes is the Seiko SQ50-V Quart Metronome. This is a simple metronome that gets the job done right without too many bells and whistles.
The traces of this company can be found as back as 1881. Needless to say, they have their fair share of experience of making different kinds of musical instruments.
One important factor that you need to keep in mind is that when it comes to metronomes, simplicity is the best answer. This metronome is not at all complicated and can help you significantly in learning to play.
Overall, this would be a great practice aid for anyone who's in the market for a good metronome.
Final Thoughts
These are some of the best metronome products in the market presently. Regardless of what instrument you play, these metronomes can significantly help you in learning how to play them. All of them offer different sets of features, and you should decide among them based on your specific needs.
Music is medicine for the soul. It is one of the most beautiful forms of art. The creativity one puts into the creation of music is a testament to the wonders humanity can achieve. Naturally, millions of people flock towards music in one way or another each year globally.
If you want to be an exceptional musician, then it's important that you use every tool at your disposal to become better every day. A metronome is one tool that should definitely be in your arsenal as a musician at any level.
Looking for more ways to become the best musician you can be? Click here to check out our list of the best music theory books.