Disclosure: Some of the links in this post are affiliate links. That means that if you click on a link and purchase an item, we may receive an affiliate commission at no additional cost to you. As an Amazon Associate I earn from qualifying purchases.
Trying to get started with the electric guitar? Looking for the best guitar amps for beginners?
If you want to play the electric guitar, you need to have a great amp to really achieve the volume and sound you want. Having a great amp will give you that loud sound that you love and will be a lot of fun to play around with.
While there are amps out there at all price points, don't worry. There are some great amps out there for beginners, and you don't necessarily have to pay a lot to get a great amp for your needs.
Below we'll give you our list of the very best guitar amps for beginners.
Best Guitar Amps For Beginners – Quick View
How to Choose a Beginner Amp
So what should you look for when choosing a beginner guitar amp? Here are some of the main things that you should consider during your search.
Consider the Power and Volume
One of the top things to consider when choosing a beginner guitar amp is its size, weight, and volume.
Amp volumes will be affected by the watts of power that the amp has. Typically, a practice amp will have anywhere from 10 to 40 watts of power. These amps will be great for practicing.
However, you'll probably need to get an amp that has 50-100 watts of power when playing with friends. An even larger amp that has 100 watts or more would be required to play in large venues.
Know the Guitar Amp Types
It's important to understand that there are different types of amps as well. The main types include solid-state amps, tube amps, modeling amps, and hybrid amps.
Solid state amps: These are low-maintenance, digital amps that are typically one of the best choices for beginners.
Tube Amps: These are amps with warm, vintage tones. They're perfect for classic rock but are also a bit hard to take care of.
Modeling Amps: These amps are solid-state amps that can model vintage tube amps and offer a variety of different effects.
Hybrid Amps: These amps combine the functionality of both solid-state amps and tube amps.
Consider Your Genre
It's also important to think about the genre that you'll be playing when buying a guitar amp.
Jazz guitarists, for example, might prefer to have a cleaner sound without any effects or distortion. Rock, metal, and punk guitarists might want to get a tube amp that offers plenty of distortion and overdrive.
You should be sure to consider the tone that a guitar amp will have and be sure that it will mesh well with the genre you're most interested in playing.
Check for Special Features
Guitar amps can come pre-built with all kinds of special effects and features, so you may want to consider if there are any that you're interested in.
If you're looking to get a bit more out of your amp, you might want to choose one that features built-in EQ controls, reverb effects, tremolo effects, or looping and recording inputs and features. Be sure to browse amps and consider which special effects you'll want based on your interests and the genres that you want to play.
Top Beginner Guitar Amps – REVIEWED
Ready to get started? Here's our list of the best beginner guitar amps.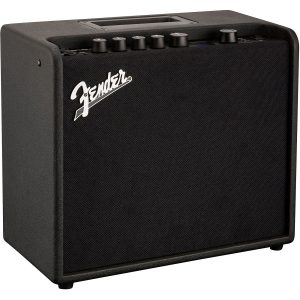 The first beginner guitar amp on our list is the Fender Mustang LT-25.
This popular modeling amp has some great features and offers an amount of simplicity that is great for new guitar players. There are 30 amp model presets and plenty of clean and dirty tones to choose from, so you'll be able to experiment with many electric guitar tones as you learn your instrument.
This amp features 25 watts of power an 8″ guitar speaker, and a wooden cabinet. There's both an auxiliary input and a stereo headphone output jack on this amp to offer extra flexibility. You'll also find a 1.8″ display that's easy to use when changing between the different guitar tones.
Overall, this is one of the best beginner amps out there and will offer everything you need to start amplifying your guitar for the first time.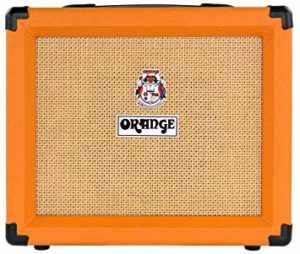 The second amp on our list is the Orange Crush 20RT. This is a solid-state combo app that doesn't take up much space, and luckily, the price is pretty reasonable. This guitar has a great look that truly stands out.
The Orange Crush 20RT amp sounds pretty amazing and tone-wise, the amp can easily be switched from clean to dirty. This amp also features some killer reverb that simply sounds great. This amp allows for some hard-hitting tones thanks to the overdrive and detailed saturation.
The amp offers the ability to control the gain and adjust treble, mid, and bass tones with the 3-band EQ. This amp has two channels that users can easily change with a footswitch. It also has a built-in chromatic tuner that will help ensure that you're always in tune.
Overall, this guitar amp has everything beginners will need to amplify their instrument.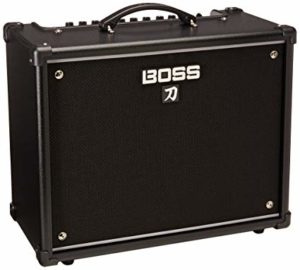 The BOSS Katana-50 is the next amp on our list of the best guitar amps for beginners. This amp features a bit more power than some of the other options on this list, and you'll likely want to keep it around as you improve your skills as well.
Like the other Katana model amps by BOSS, this amp is full of great features and contains plenty of power. The amp features 50 watts and a 12-inch speaker and sounds pretty good.
A great range of tones is available to you with this amp, whether you prefer that clean or crunchy sound. The amp has controls on board to change the gain, the effects, and the EQ. You can also easily customize the effects on this amp by using the BOSS Tone Studio editor software
Overall, this is an amp you should definitely consider as a beginner player.

The Fender Frontman 10G is another great guitar amp for beginner players. This tiny amp by Fender offers a huge value to beginner players. This amp is priced well and offers a great bang for the buck. It also looks nice and is very easy to use.
This is a solid-state amp that has a 6″ speaker and 10 watts of power. The amp features great controls and an amazing range of tones. You can easily control the gain on this amp and can achieve a range of overdriven and distorted tones.
By the way, if you're looking for more small guitar amps you may want to check out our full list of the best mini guitar amps.
Finding the Best Guitar Amp for Your Needs
If you want to give your guitar some extra volume and have a great tone, you need to invest in a great beginner guitar amp. This list of the best guitar amps for beginners is a great place to start and you'll be sure to be pleased with any of the options listed above.
Looking for the best acoustic guitar amp? Click here to see our list of the best acoustic guitar amps now.