Disclosure: Some of the links in this post are affiliate links. That means that if you click on a link and purchase an item, we may receive an affiliate commission at no additional cost to you. As an Amazon Associate I earn from qualifying purchases.
Searching for the best acoustic guitar amps? Want to give your acoustic-electric guitar a bit more volume?
If you own an acoustic-electric guitar, you shouldn't let it go to waste! Getting a great amp that is perfect for those sweet acoustic tones is essential. Whether you're wanting to play live with a band, put on a great solo performance, or you'd simply like a bit more volume during your at-home practice sessions, it's important to find the best acoustic amp to do the job.
Luckily, we're here to give you what you need. Below we'll give you an overview of the very best acoustic guitar amps on the market today.
Best Amps For Acoustic Guitar – Quick View
Differences Between Acoustic and Electric Guitar Amps
If you're thinking about buying an acoustic guitar amp, you may be wondering why you shouldn't just buy an electric guitar amp instead. It may surprise you to learn that acoustic and electric guitar amps aren't the same. Using an electric guitar amp with an acoustic amp isn't a good idea.
Running an acoustic guitar through an electric amp is possible and won't damage the amp or the instrument. However, the sound will leave a lot to be desired.
An electric amp will make a much bigger impact on the tone of a guitar and will change its sound more dramatically than an acoustic amp will. An acoustic amp, however, is made to amplify the natural sound of the acoustic guitar's wood.
With an acoustic amp, you'll get a more natural acoustic guitar sound. Your acoustic guitar will sound its best and you'll get an authentic warmth from the instrument. You can't get this when using an acoustic guitar with an electric guitar amp.
There may be times when you'll want a specific acoustic tone and will want to send an acoustic guitar through an electric amp. However, you'll generally want to use an acoustic guitar with an acoustic amp and an electric guitar with an electric amp.
Best Acoustic Guitar Amps – REVIEWED
Ready to see our list? Here are the top guitar amps for the acoustic guitar.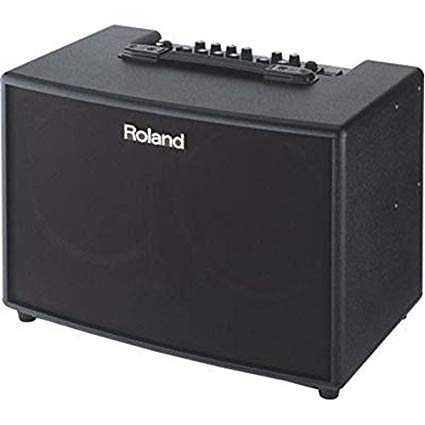 The Roland AC-60 is a killer acoustic guitar amp that you'll want to consider adding to your gear collection.
This is a stereo acoustic amp that comes with built-in reverb effects. The amp also boasts built-in anti-feedback effects. This Roland amp features 30 watts of power which would be great for small concert halls and venues.
The Roland AC-60 features great craftsmanship and contains faux Rosewood. This amp features two channel inputs, both guitar and a microphone line, meaning it would be great for solo acoustic performers.
Overall, this is a great acoustic amplifier that is hard to compete with and it's sure to please any player that gives it a try.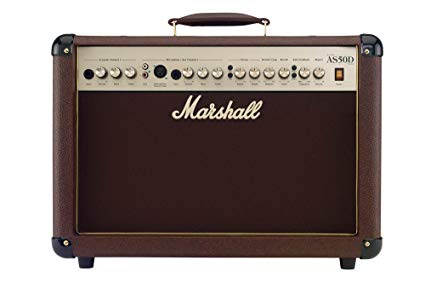 The Marshall AS50D is the next amp on our list of the best amps for acoustic guitar. Marshall acoustic amps are pretty impressive, and the Marshall Acoustic Soloist AS50D is no exception.
The Marshall AS50D features 50 watts of power and is a 2×8 2-channel combo amp. The amp also features built-in digital chorus and reverb effects controls which can give you some flexibility with your tone. Dual channel inputs and intuitive controls are also included in this amp.
Marshall lives up to its respected name with this high-quality acoustic amp. This amp is very easy to use and make sense of and will please even the pickiest of acoustic players.
Overall, this is a great acoustic amp and one of the first you should look at if you're thinking about making a purchase.

The Yamaha THR5A is the next acoustic amplifier on our list. This is a battery-powered amplifier that gives you a lot of flexibility and power in a small package, offering 10 watts of power. This amp does a great job of simulating that warm sound of the classic tube amps of years past.
Compact and lightweight, this amp is ideal for small acoustic gigs or home recording sessions. As an added bonus, the amp also comes with Steinberg's popular Cubase music production software.
In addition to acoustic tones, this amp is also perfect for electric players as well. There are 5 different guitar sounds that are included and you can easily switch between clean, crunch, lead, modern, and Brit Hi.
Overall, this is a great amp with a warm sound that can offer you all that you could possibly need from an amp. This might be the best small acoustic guitar amp that's out there.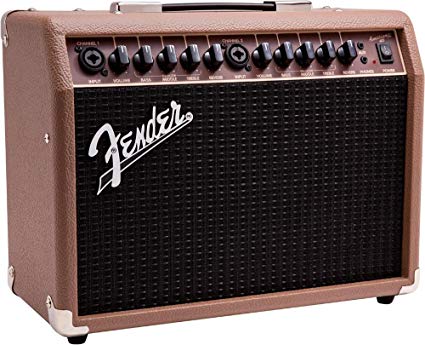 The Fender Acoustasonic 40 is the last acoustic amp on our list but still packs a pretty nice punch.
This Fender amp is very flexible and allows players to hook up both a guitar and a microphone at the same time. It features both a 1/4 jack instrument input and an XLR input for microphones as well. This could even be used as a PA in a small coffee shop or gig.
The amp features great high-frequency response and also contains a built-in reverb effect. It offers great sound to players, especially considering its low price.
The amp is easy to carry around and doesn't weigh much at all and is also durable enough to withstand plenty of abuse.
Overall, this is a great acoustic amp, which should come as no surprise considering this is made by Fender.
Choosing the Best Amp for Acoustic Guitar
If you're searching for the best acoustic guitar amps, you can end your search here. Each of the above amps is great for acoustic-electric guitars and will give your instrument the volume it needs while also maintaining a great tone.
Looking for the best acoustic-electric guitars to go with your amp? Click here to see our list of the best acoustic-electric guitars.