Disclosure: Some of the links in this post are affiliate links. That means that if you click on a link and purchase an item, we may receive an affiliate commission at no additional cost to you.
Are you ready to take the show on the road?
Looking for the best mini guitar amps available today?
Believe it or not, guitar amps come in all sizes. While you can get a massive amp that fills a large venue with volume, you can also get some pretty tiny pieces of equipment as well that pack more power than you may expect.
If you're in the market for a miniature guitar amp that you'll be able to use for practicing or that you'll be able to easily get from Point A to Point B look no further.
Below we'll give you our list of the best mini guitar amps on the market today.
Best Mini Guitar Amps – Quick View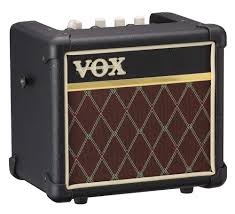 The Vox Mini3 G2 Guitar Amp is one of the best mini guitar amps you're likely to find. This amp is compact in size and perfect for those on the go or for those who enjoy packing light without losing the crowd. This guitar amp operates at 3 watts and offers 8 effects and an amazing range of 11 amp simulators.
This amp is perfect for those who struggle with power issues and offers two powering options. It runs on an AC adapter or battery power.
One main struggle guitarist often face is the weight of their amp. Amps can be extremely heavy and bulky, preventing easy setup and maneuverability. The Vox Mini3 G2 Amp obliterates the competition in terms of its mobility. It weighs in at only 3kg and is perfect for those individuals who perform in several locations. It will prevent the annoyance of lugging around a big heavy amp.
Overall, this is a great mini guitar amp that offers everything you're likely to need in a very small package.

The next amp on our list is the Boss Katana Mini Amp. While this Amp is small in size, its performance level is through the roof.
Packed into the little compact amp lies a wide range of musical tones. Its 7 watts are capable of producing much louder sounds then you would previously think possible in such a small device. It is sure to surprise not only you but those whom you perform for. This amp is capable of operating with 6 AA batteries and also offers the option for using an AC power adapter.
The controls on this amp are simple and easy to learn as well. Among the controls offered are bass, amp type, volume, treble, delay time, and delay level.
The amp produces a very clear tone that is sure to please all listeners. This amp is super easy to use and with its many options is also tons of fun to play around with.

The Roland Micro Cube GX is another great mini guitar amp that is well worth your consideration. This Amp is slightly more complex than the others available. This little amp has so much packed inside its design that it's almost unbelievable.
The Roland Micro Cube GX features include 8 COSM amp models, 8 DSP effects, stereo aux input for external devices, a carrying strap, a tuner, and even a memory function that allows for the saving of favorite settings.
Many players hold this amp in high regard for the power of sound it produces with its 3-watt capacity. This amp is easily maneuvered with one hand due to its top facing carrying strap, making it perfect for those who like to travel light and move quickly.

The VOX Pathfinder 10 Guitar Amp, commonly known as the Pathfinder 10, offers everything you would expect a VOX amp to provide.
The amp produces great crunch and amazingly clean tones. It's perfect for those who want to rock, sing the blues, play some jazz, or even sing along with a country song. The Pathfinder 10 can do it all, whatever the style of playing the guitarist prefers.
The Pathfinder 10 is, as you may have guessed,  an amp with 10 watts of power. It is one of the bigger mini amps available but is still compact enough to easily be portable. This amp is perfect for those who wish to simply plug and play and is great for either studio jamming or chilling at home with friends and family.

The Yamaha THR5 Guitar Amp is another one of the best mini guitar amps on the market today. Though this amp is not the cheapest on our list, it is well worth the money spent.
This amp is so small it can fit right on a desktop. This incredibly small amp is capable of producing up to 10 amps! This amp offers multiple sound and effect options, including 5 amp sims, and a USB input, tone switches, and a tuner.
Yamaha has tinkered around with the design quite a bit. It allows for specific sound waves much similar to tube amps, producing a sound you are sure to love. It offers a USB connection that gives the options of two-channel recording to a computer and two channels of playback from the computer.
The design of the amp is super durable due to its metal chassis design. This means it will stay well-protected against unwanted damage due to minor bumping or dropping.

The Orange Micro Terror MT20 Amp Head is another killer option if you need a portable and small guitar amp that still offers plenty of power. This amp is amazingly light due to its small size, preventing uneasy back pain due to continuous lifting and pushing.
This amp offers a hybrid design that offers a 12AX7 preamp tube and a 20-watt power amp capacity. It's sure to blow away the competition.
The price of this amp is fairly cheap in comparison to other amps available on the market. This means it's a great buy for those who want to save a little money without the expense of quality.
This amp has the power to play both heavy metal music, as well as hot jazz. Its small size shouldn't fool anyone, it packs quite a punch!

The Fender Mini '57 Twin Amp is the last amp on our list but still offers quite a lot to players. This amp is perfect for those who enjoy playing at home. It's more than capable of fitting on your desktop or sitting on the floor thanks to its remarkably small size.
Unfortunately, this amp is not the most powerful amp discussed on the list, rating in at only 1-watt speakers that measure 2 by 2 inches. However, it is plenty loud enough for those who just enjoy playing the guitar without the need for all that extra power.
The amp is covered with real vintage fabric and the handle is made of leather. This gives the amp that classic feel and offers a bit of nostalgia for those who have had the pleasure to play Fender amps in the past. The amp's vintage design is reminiscent of how things used to be, making it ideal for those who like that retro look.
Final Thoughts
While there are a lot of good mini guitar amps out there, above are some of the best options that money can buy. A mini and portable guitar amp can be a very helpful and convenient tool to have in your musician arsenal. However, make sure you take your time and choose the best mini guitar amps that are perfect for you.
Need a great electric guitar to go with your amp? Click here to see our list of the best electric guitars for beginners now.