Disclosure: Some of the links in this post are affiliate links. That means that if you click on a link and purchase an item, we may receive an affiliate commission at no additional cost to you. As an Amazon Associate I earn from qualifying purchases.
Looking for the best tube amps on the market today?
Aiming to get that great classic tube amp sound?
Before the rise of solid-state and modeling amps, the tube amp was the traditional pairing with the electric guitar. Even today, the tube amp offers a legendary classic sound that many guitarists crave. This is a big part of the reason that modeling amps exist and are so beloved by guitarists.
If you're ready to find a great tube amp, look no further. Below we'll give you our list of the best tube amps on the market today.
Top Tube Amplifiers – Quick View
Best Tube Amps For Guitarists – REVIEWED
Ready to see our list? Here are the best tube amps for guitarists.

The first tube amp on our list is the Marshall DSL100H. The Marshall DSL100H is a very worthy choice for serious rock guitar players. For those who want a legendary rock sound, this Marshall can deliver the goods.
This 100-watt tube amp features easy to understand controls along with two channels that can be changed with a footswitch. It features two modes, both classic and ultra-gain, and both sound great. This amp can deliver a range of tones all the way from beautiful clean tones to hard and heavy distortion featuring high gain. However, Marshall has packed a lot of power into this tube amp, so it may be a good idea to invest in some quality earplugs before you start cranking the volume up too loud.
Additionally, this amp is also available in a 15-watt version.
Overall, this is a great amp that is well worth your consideration if you want to bring your electric guitar sound to the next level.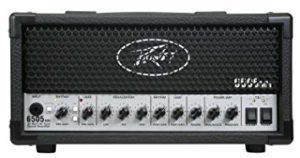 The Peavey 6505 Tube Amp is another great amplifier that all guitarists will want to consider if they're considering making a purchase. This amp is a legend and is among guitar players and is among the best tube amps of all time.
If you're looking for that metal sound, this is the tube amp that can give you the sounds of the genre. This tube amp has a gritty and hard-hitting tone that is also incredibly flexible. This amp provides for plenty of control and is extremely versatile.
There is also a miniature version of this amp available.
Overall, this is a great amp that Peavey really delivers on. It will offer an amazing tone to players of all levels, particularly those who are interested in playing metal.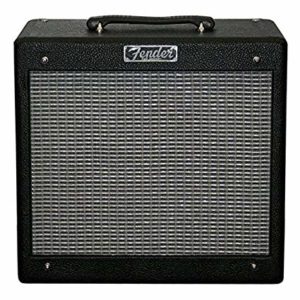 The Fender Pro Junior IV is another great tube amp for electric guitarists and is one of the best offerings from the well-regarded Fender name. While this is a bit more basic than other tube amps by Fender, the price is also lower as well.
Upgrades such as low-noise shielding and shock absorbers for EL-84 tubes are also an option for this amp. The Fender Pro Junior IV has a 10-inch speaker and gives a sweet vintage sound.
This amp is very intuitive and even a new guitarist could use the controls easily to perfect his or her tone. However, despite being great for beginners, advanced and intermediate players can get a lot of use out of this amp as well.
Overall, this is a great tube amp that isn't likely to disappoint even the pickiest of guitar players.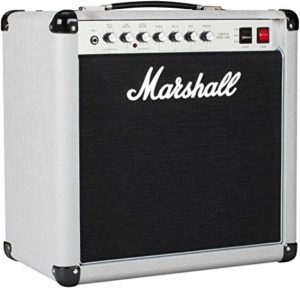 The Marshall 2525C Mini Silver Jubilee is the last tube amp on our list and offers plenty to players. This is the smaller version of the well-regarded Silver Jubilee amp by Marshall. While this amp is more expensive than a lot of the amplifiers out there, it offers a lot to players in a small package.
The amp has less than 25 watts of power but still packs quite a punch and the amp has a lot of pre-amp features that offer a classic sound for guitarists. The amp also has multiple pre-amps on-board.
This amp also has a 3-band EQ and controls for gain, presence, and volume FX loop controls for guitarists to make use of. It also has a DI output, an included footswitch, and a useful high/low output switching feature.
Overall, this is a great mini amp by Marshall that offers a lot to players in a small package.
Final Thoughts
If you're looking for the best tube amp on the market today you simply can't go wrong with any of the above options. Each of these amps offers an amazing tone to players and plenty of functionality that can help you elevate your electric sound to the next level.
Looking for your very first guitar amp instead? Click here to see our list of the best electric guitar amps for beginners.