Disclosure: Some of the links in this post are affiliate links. That means that if you click on a link and purchase an item, we may receive an affiliate commission at no additional cost to you. As an Amazon Associate I earn from qualifying purchases.
Looking for the best modeling amps?
Ready to own a guitar modeling amp with an amazing tone?
A modeling amp is an amplifier that allows you to dial in the sound of specific amp models, both vintage and boutique. They emulate the sound of some of the best amps and tones of all time.
Modeling amps offer a lot of benefits to players. With the help of digital processing, these amps can take a guitar sound to the next level and can give guitarists more versatility and "oomph" than ever before.
If you're looking for a great modeling amp, we're here to help you out. Here's our list of the best modeling amps on the market today.
Best Modeling Amps For Guitar – Quick View
shortcode
Top Amp Modelers – REVIEWED
Ready to find a great modeling amp? Here's our list of the best.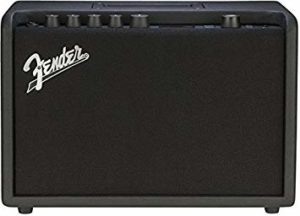 The first modeling amp on our list is the Fender Mustang GT 40.
This modeling amp offers versatile volume features that would be ideal for many venue types and sizes as well as for home practice. This Fender amp features an MP3 line, a color display, and Bluetooth sharing.
Players can also use tube-like emulations with this modeling amp and have a huge range of effects to choose from. This modeling amp features 45 effects and 21 classic voices for players to tweak to their heart's desire.
Overall, this is a great modeling amp that will serve any guitarist well.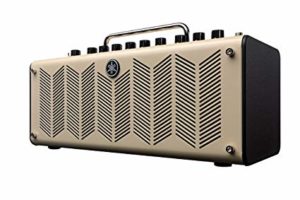 The Yamaha THR10X Valve Modeling Amp is the next modeling amp on our list. This Yamaha amp features a wonderful tube-style tone and offers all of the volume players are likely to need.
This amp has a great emulated tone that sounds great and provides some killer distorted and fuzzy tones. Effects included in this modeling guitar amp include tremolo, phaser, flange, and a range of sweet-sounding reverb settings. This Yamaha amp also contains an impressive compressor and noise gate feature that is only on the THR10X.
There are plenty of positive features of this amp of note including a user memory switch, a tap/tuner switch, and a USB auxiliary out. This combo amp also comes with studio headphones that aren't too shabby.
For anyone who needs to play outside or do a bit of street performing, this amp is a great choice because it can be powered by batteries.
Overall, this is a great modeling amp that won't steer any guitarist wrong.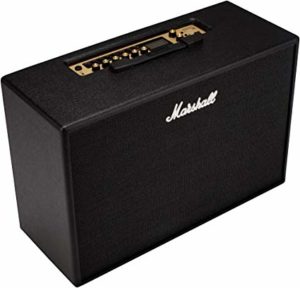 The Marshall CODE-100C is the next modeling amp on our list.
This amp features 14 preamp models, 8 speaker cab models, and 4 power amp models that all sound great. You can tweak this amp exactly to your liking with many included effects including volume, gain, delay, reverb, and modulation. There are about 100 presets as well as 24 effects.
Another great thing about this amp is that you can integrate it with the official app for updates and for patch sharing. This Marshall amp has a 2-way footswitch.
For live use, this amp is perfect due to the high volume you can achieve. The amp has 100 watts of power.
Overall, this is a great Marshall modeling amp that has a whole lot to offer serious guitar players.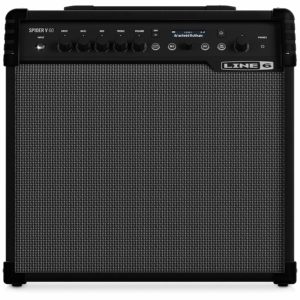 The Line 6 Spider V 60 is the next guitar amp on our list of the best guitar modeling amps.
This modeling app has a built-in tuner. You can also create and store settings with this amp. You can use this amp without your hands with the foot multi-effects pedals.
Particularly for players of modern or classic rock, this amp offers a lot of tones and sounds for players. This Line 6 Spider V 60 Wireless-Ready Modeling Amplifier has more effects than you'll know what to do with including the ability to mess around with reverb, delay, modulation, echo, tremolo, tape, and more. This amp is extremely easy to adjust and tweak.
This modeling amp features a closed-back cabinet. It also comes with a custom-built speaker as well as an FBV 3 foot controller that allows for easy remote switching.
If you don't have much money to spend, this amp can be a great option.
Overall, this is a great modeling amp that isn't likely to disappoint even the pickiest of players.
Final Thoughts
If you're looking for the best modeling amps then you don't have to look much further than the list above. Marshall, Fender, Yamaha, and Line 6 truly offer some great modeling amps that are very feature-heavy. Each of the amps above is well worth a closer look if you're looking to give your guitar an amazing tone.
Looking for another type of amp instead? Here's our list of the best tube amps for guitar players.