Disclosure: Some of the links in this post are affiliate links. That means that if you click on a link and purchase an item, we may receive an affiliate commission at no additional cost to you. As an Amazon Associate I earn from qualifying purchases.
In search of the best piano keyboards for beginners? Ready to start rocking out on the keys?
If you're ready to get started playing the piano or keyboard, you'll need to find a great piece of equipment to do it with. There is a huge range of keyboards out there to choose from and they range in price and quality quite a bit. It can be hard to sift through all of the different options that are out there.
That's why we're here to help. In this post, we'll tell you about the top 8 piano keyboards for beginners.
Best Piano Keyboards For Beginners – Quick View
How to Choose a Beginner Keyboard
There are a few different factors to consider when choosing a keyboard for a beginner. Here are the top things to think about when making your choice.
Number of Keys
If you want to have the full range of possibilities with your keyboard, then you should be sure that it has the right number of keys. A standard full-size piano will have 88 keys, so consider getting a digital keyboard with the same number.
If you want to save space or prefer a smaller size keyboard there are other options available, however. You'll also find keyboards that have only 76 keys or even 61 keys.
Remember that as you learn to play more music on the piano, a smaller keyboard could limit you. You might not be able to access all of the keys that you need to play certain compositions or classical pieces that you're attempting to learn, for example.
Key Weight
When choosing a keyboard, also think about the action of the keys.
The cheapest piano keyboards will have "unweighted" keys that won't feel like real piano keys. These keys won't offer resistance when playing and this can be detrimental to your development once you make a switch to a real piano.
If you learn with unweighted keys, you won't be used to how the weight of the keys feels when you switch to a real piano or a keyboard with weighted keys. You also won't have as much control over dynamics with unweighted keys either.
While you can learn to play the piano on a keyboard with unweighted keys in the beginning, sooner or later you'll want to get a keyboard that has weighted keys instead. If you're willing to spend a bit more money in the beginning, you may want to go ahead and get a keyboard with weighted keys as soon as you start playing.
MIDI Functionality
If you want to hook up your piano keyboard to a computer to record or write music, you may want to ensure that it has USB MIDI connections. MIDI can add a lot of new possibilities to your keyboard.
Most digital keyboards come with this built-in, so you may not need to worry about it too much. However, you might want to double-check for MIDI functionality when buying a keyboard for the first time if it's important to you.
What Are the Best Piano Keyboard Brands?
While you can find plenty of quality digital piano options from a variety of different brands, there are a few brands that stand out when it comes to the instrument. Here are some of the top brands that you should prioritize when buying a digital keyboard:
Casio
Yamaha
Roland
Alesis
M-Audio
Kawai
Korg
Nord
Keep in mind that although the brands above are the best, you might need to opt for a lesser-known brand if you're a beginner player and you're on a tight budget.
Unless you're willing to pay top dollar for a professional keyboard, the brand might not matter too much to you in the beginning. However, it's worth considering the brand of the keyboard you buy early on. You should definitely consider purchasing from one of the above brands if you ever decide to upgrade to a more professional digital piano with fully weighted keys.
Which Keyboard Accessories Should You Buy as a Beginner?
When buying a piano keyboard as a beginner, there are a few accessories that you might want to have to get the most out of your instrument.
While many beginner packages will come with the accessories that you need, it's worth double-checking whether they're included or not. If they aren't included, you might want to buy them separately.
Here are some of the accessories that you'll probably want to have for your keyboard sooner, rather than later:
Keyboard Stand: A keyboard stand will be very useful when learning the keyboard and will allow you to stand or sit while playing. You'll be able to place your keyboard wherever you would like in your home.
Sustain Pedal: A sustain pedal allows the keys you press to ring out longer and is an essential accessory for a budding pianist.
Piano Bench or Stool: A piano bench or stool can be helpful for improving your posture and keeping you comfortable when playing the keyboard.
Headphones: If you want to play the keyboard at home without disturbing others, it's a great idea to get high-quality headphones to use.
Music Stand: A quality music stand can be used to hold sheet music while playing and is an absolute necessity.
Piano Book: Whether you're taking piano lessons or teaching yourself the piano, owning a great beginner piano lesson book or music theory book can accelerate your progress.
Top Beginner Piano Keyboards – REVIEWED
Ready to see our list of the best piano keyboards? Here are our top beginner choices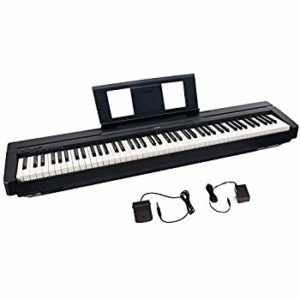 The next piano keyboard on our list of the best is the Yamaha P-45 Digital Piano. This piano keyboard is modeled after a concert grand piano and the audio quality is second to none.
This is the lowest cost option out of all of the 88-key graded hammer standard weighted action keyboards made by Yamaha. While it may be a bit pricey for some beginners, however, those with a bit of money to spend will find that this is a great keyboard to learn on. It still makes for a great option for beginners.
You can easily adjust the sensitivity of the velocity and the hammer action. The included sustain pedal will be helpful for adding more versatility to your playing. If needed, you can also purchase this digital piano packaged with a stand.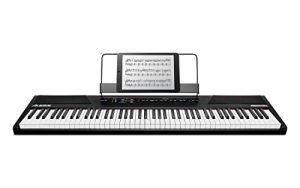 The Alesis Recital Keyboard is one of the best entry-level keyboards available today and is among the best-selling on Amazon.
This is a full-size keyboard with 88 keys and all of them are semi-weighted, meaning that they'll feel closer to the real deal than many other keyboards that are out there. For the price, getting the semi-weighted keys on this piano keyboard is pretty valuable.
The keyboard features 128-note polyphony, strong speakers, and a front panel that isn't too cluttered or overwhelming.
On the negative side, this keyboard doesn't have the highest quality sound that's available. Some players may also think that the 5 included tones are a bit too limiting, especially when there are other keyboards out there with a much larger range of sounds built-in.
Overall, however, this is a great piano keyboard for under $300 that will be sure to offer a lot of value to you as a beginner or student.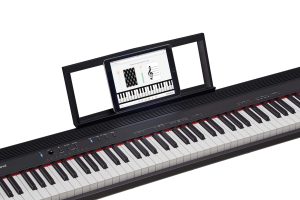 The Roland GO:PIANO is one of the best options to consider if you're planning to buy a beginner piano keyboard soon. This is an 88-note full-size keyboard that will be a great instrument to learn new skills on.
Even though this Roland keyboard is a full-size piano, it offers a good mix of portability and functionality. It's lightweight and only weighs 7.5kg (16 lbs).
This keyboard also comes with wireless Bluetooth connectivity. This means that you can easily connect it to your smartphone and use it with apps.
If you're looking for a beginner keyboard that offers a great balance of features in a lightweight package, you might want to consider the Roland GO:PIANO.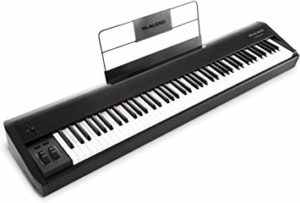 Another digital piano for beginners that is highly recommended is the M-Audio Hammer 88. This is an 88-key USB MIDI keyboard controller. It has hammer-action keys along with useful features such as pitch and mod wheels, octave and transpose controls, pedal jacks, and a data fader.
This is ideal for use with a computer and offers strong compatibility with all of the major DAWs that are out there. The keyboard offers great value for the price, especially for any beginner who wants to record and produce their sounds.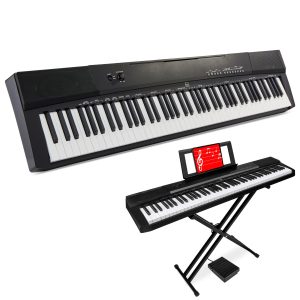 Another piano keyboard with semi-weighted keys, the Best Choice 88-Key Digital Piano is a great choice to consider as a beginner. With nearly 2,000 Amazon reviews at the time of this writing, the keyboard is rated highly and purchasers have found a lot to love about it.
This is a lightweight piano keyboard that offers 6 different instruments and piano styles to choose from and has decent built-in speakers.
Another thing that's great about this piano is that it comes with all of the accessories and extras you'll need to get a full keyboard setup at home. The digital piano comes with a keyboard stand and a sustain pedal, so you can get a lot out of this low-priced package.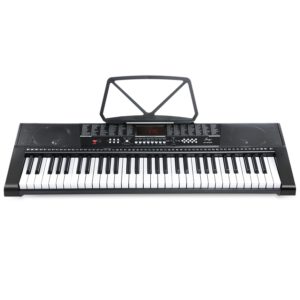 The next digital piano keyboard on our list is the Joy JK-63M. This keyboard has 61 keys, which should be enough for beginners. This is a great budget option that won't be likely to break the bank.
There is everything you would expect from a beginner keyboard including plenty of rhythms and tones to play around with. It also has built-in demonstration songs.
This can be bought as a bundle that also includes a stand, a power supply, and a stool.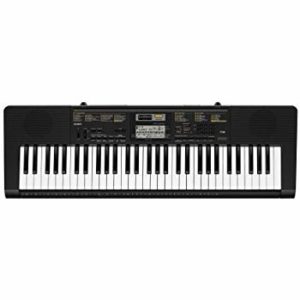 The next beginner keyboard on our list is the Casio Casiotone. This is a small, portable 61-key keyboard that offers one of the best mixes of quality and price. Beginners will find a lot of value in this package. This keyboard is incredibly affordable, so it will be easy for any beginner to get their hands on it.
This keyboard has a lot of cool features that make it a lot of fun to play and great for beginners to learn the ropes with. The piano has a dance mode that allows for some interesting producer-style experimentation with EDM-style tracks. This Casio keyboard also has 400 built-in tones, 77 rhythms, and 60 built-in songs to use and play around with.
You'll also find USB connectivity and can connect with iOS and Android devices to use the piano with various apps.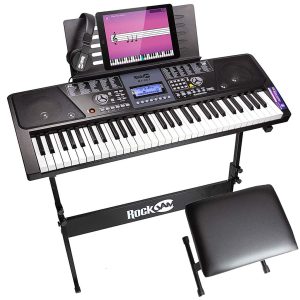 The RockJam 61-Key Digital Piano is a suitable choice for a complete newbie to the piano.
This is a decent enough piano to get your feet wet with, but you won't get the full feel of a real piano like you will with many of the others on this list. The keys are not touch-sensitive or weighted, so it won't feel too much like playing the real thing.
With that being said, however, this keyboard isn't a bad deal for just over $100. For a low price, you'll be able to start playing notes on the piano as you go through lesson books and learn more about the instrument.
The sound quality is decent for a piano of this price and you'll also find that there are a lot of sounds to play around with. There's also a useful sheet music stand and touch display which make the keyboard very easy to use. The keyboard also includes some useful accessories including a keyboard stand and a padded seat.
Overall, if you want to start with the absolute cheapest option and are willing to learn with a small number of unweighted keys, this is a good option to consider. You'll get a pretty good bang for your buck.
Choosing the Perfect Piano Keyboard for Your Needs
When you're searching for the best piano keyboards for beginners, it's important that you do your research. Not every keyboard out there is worth your hard-earned money, so you'll want to consider the list above carefully when making your choice.
Looking for the very best digital piano keyboards available? Click here to check out our list of the best piano keyboards for the stage instead.