Disclosure: Some of the links in this post are affiliate links. That means that if you click on a link and purchase an item, we may receive an affiliate commission at no additional cost to you.
Want to make changing strings as easy a task as possible?
Searching for the very best guitar string winders?
While changing guitar strings manually is far from an impossible task, it can be made easier. With the help of a guitar string winder, changing strings will be much easier and quicker. Once you have one, you may wonder how you ever changed your strings without one of these tools for so long.
Luckily, we're here for you. Keep reading to see our list of the best guitar string winders available today.
Best Guitar String Winders – Quick View
Top String Winders For Guitar – REVIEWED
Eager to see what our favorites are? Here are the very best guitar string winders.

The first guitar string winder on our list is the Planet Waves Guitar Pro-Winder tool.
This D'Addario string winder is a professional option that is also a useful multi-tool. This is an affordable and durable string winder option that will serve just about any player pretty well. This is a great tool that can be used for classical, acoustic, and electric guitars.
Built into this winding device is also a string cutter and a bridge pin puller. While grips on string winders often leave a lot to be desired, the grip on this tool is top-notch.
The string winder features an ergonomic design that works well and is optimized for comfort. It's a very small accessory and should be able to fit well in just about any case or gig bag.
The only drawback to this D'Addario winder, however, is that it makes a bit more noise than some others on the market.
Overall, this is a great string winder that offers some great features and will be a reliable option for players.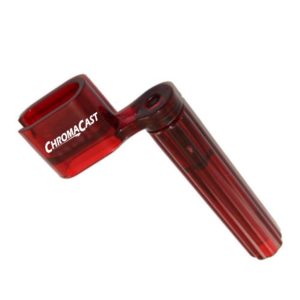 The ChromaCast CC-SWTR Trans Red String Winder is another worthy option that will serve any guitar player well. If you need to replace your guitar strings fast, this is a great tool for doing it. This particular model comes in a transparent red.
This is a great classic choice if you just want a simple string winder that will get the job done every time. There are few bells and whistles but it comes in at a low price and offers a lot of value to players.
Included is a notched head bridge pin puller that will work great on your acoustic guitar.
Overall, this is a great simple option that will give you exactly what you need to change your strings with ease.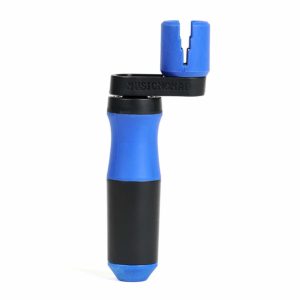 The final string winder on our list of the best string winders is the Music Nomad MN221 Grip Winder. This peg winder can help you get your strings changes in no time at all.
The winder has a rubber-lined design that is less likely to cause damage or scratches to your guitar. It's on the slimmer side and the non-slip grip is surprisingly comfortable. A 10mm hex wrench also comes with this high-quality string winder.
Overall, this is a great winder that is comfortable and will get the job done right without a hitch.
Final Thoughts
If you want to have an easy time playing your instrument and make maintenance easier than ever, then this list of the best guitar string winders is sure to be helpful to you. Changing your guitar strings is an essential task as a guitar player but it doesn't have to take a long time or be difficult with the help of these string winders.
Looking for more great guitar accessories? See our list of the most essential acoustic guitar accessories now.