Disclosure: Some of the links in this post are affiliate links. That means that if you click on a link and purchase an item, we may receive an affiliate commission at no additional cost to you. As an Amazon Associate I earn from qualifying purchases.
Looking for the best ocarinas for beginners? Ready to get started with this unique wind instrument?
You probably already know that an ocarina is a wind instrument like a recorder or a flute, but you might not be aware of the various types of ocarinas; this guide is to help you choose the right one for you.
While many people are familiar with the instrument due to The Legend of Zelda video game series, the instrument has an interesting history and has been around for a long time.
Luckily, it's still a lot of fun to play and there are some great options out there for beginners. Below we'll give you our list of the very best ocarinas for beginners.
Best Ocarinas For Beginners – Quick View
| Image | Model | Summary | Price |
| --- | --- | --- | --- |
| | OcarinaWind Ocarina of Time Replica 6-Hole Ocarina | While this ocarina is sure to please Legend of Zelda fans, it's simply a high-quality and affordable ocarina that sounds great. | Check Price on Amazon |
| | Cheffort 12-Hole Ocarina From Legend of Zelda | A 12-hole Zelda replica ocarina that makes a great choice for beginners or intermediates who want to grow with the instrument. | Check Price on Amazon |
| | Dragon Tooth 12-Hole Ocarina | A 12-hole ocarina that features a gorgeous finish and that is built really well compared to other beginner instruments. | Check Price on Amazon |
| | 12-Hole Alto C Ocarina | A 12-hole ocarina for beginners who prioritize quality, and don't mind paying a little extra for it. | Check Price on Amazon |
| | Strawfire Triforce 6-Hole Ocarina | A distinctive 6-hole ocarina that was built with quality in mind. | Check Price on Amazon |
| | TNG Plastic Beginner 6-Hole Ocarina For Kids | A basic plastic ocarina that is very durable and would make a great choice for children and young beginners. | Check Price on Amazon |
What Is an Ocarina?
An ocarina is a musical wind instrument that has a unique and interesting tone. It's a type of vessel flute that you can fit into the palm of your hand and is typically made out of ceramic. These days, you can also find plastic and porcelain ocarinas as well.
The ocarina comes in a lot of different styles and a few different shapes and will typically have anywhere between 4 and 12 holes that you will press with your fingers to make different notes and sounds.
Origins of the Ocarina
The ocarina's origins can be traced back to around 12,000 years ago.
Many similar flutelike instruments have been discovered around the world. The instrument has origins in China as well as in South and Central America.
The Ocarina is still a lesser-known instrument, but its popularity spiked in the late 1990s due to the release of The Legend of Zelda: Ocarina of Time video game on the Nintendo 64 in 1998. In the game, players can play the ocarina as the main character, Link. The ocarina plays a central part in the game's narrative.
Because of the popularity of the video game, ocarinas have become more popular in real life as well. There are also many ocarinas available that feature Ocarina of Time branding and symbols.
Types of Ocarinas
Ocarinas come in two basic types, along with some variations.
The transverse-style ocarina, also known as the sweet potato style ocarina, is the one played by Link in the Legend of Zelda games. There are several manufacturers that make these types of ocarinas, partly because of the game series.
Sadly, you are not Link and therefore will probably not be able to pick up a transverse ocarina and summon the wind or travel through time. However, these are still a lot of fun to play.
The English pendant ocarina is smaller and easier to learn than the transverse style ocarina. This is because it generally has only 4 to 6 holes, and there is a lot of sheet music out there for it.
Keep in mind that there are alternative shapes of ocarinas, like ones with double chambers, but those are harder to find music for. They also may not be as easy to play for beginners as the above options.
Other Factors to Consider When Buying an Ocarina
There are some other factors to think about when choosing an ocarina to buy as well. Here's what you should think about.
Material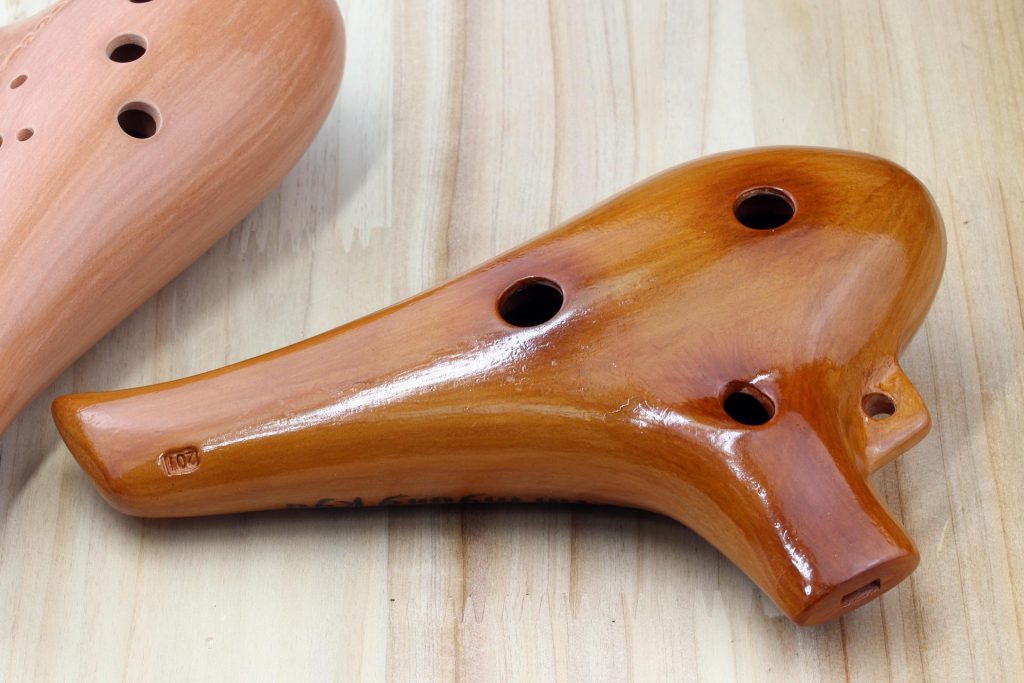 As far as ocarina materials go, the three main options that are available are ceramic, plastic, and porcelain.
The most popular type of ocarina material is ceramic. Ceramic is the traditional choice and remains popular today.
Ceramic is a type of clay that has been hardened by heat and it does a great job of providing resonance and offering a unique and colorful tone. These ocarinas are made by hand and look visually stunning while also sounding great. The price of these ocarinas is somewhere in the middle between porcelain and plastic ocarinas.
Another great material to choose from, you can get an even better tone out of a porcelain ocarina. Porcelain ocarinas are the top choice and offer a great sound and excellent projection. Porcelain ocarinas are the most expensive, however.
If you're a complete beginner to the ocarina or if you're buying an ocarina for a child, a plastic ocarina can be a great option to consider. Plastic ocarinas are very cheap compared to ocarinas made from other materials. On the negative side, however, the tone of plastic ocarinas isn't nearly as good as what you'll get out of a higher-quality ceramic or porcelain ocarina.
Pitch Range
You should also consider how many holes there will be to use on the ocarina that you buy.
An ocarina with more finger holes will have a higher range of pitches that you can play. This means that you'll be able to play more songs and more tunes than if you were to get an ocarina that only has a small number of holes to use.
A standard sweet potato ocarina will have 12 holes and this is enough to do quite a lot with. 4-hole ocarinas are also common, but the range of notes that you can play will be much more limited. Six hole ocarinas will be somewhere between these two extremes.
If you want as much versatility as possible, you may even look for an ocarina that has more than 12 holes. Although less common, there are some ocarinas available that have 16 holes or more.
Size
Continuing the last point, it's important to realize that the size of the ocarina will vary as well.
Usually, ocarinas with more holes will also be larger as well. Small 4-hole ocarinas, on the other hand, will usually be pretty compact. Some 4-hole ocarinas can even be attached to a necklace so that you can wear it around your neck.
Consider who you're buying the ocarina for when you get one to ensure that you're choosing a good size. A child may do best with an ocarina that only has 4 or 6 holes while an adult may want to get an ocarina that has 12 holes.
The Best Beginner Ocarina – Our Top 6 Choices
So the question becomes "which is the best ocarina for beginners?" The answer is more complicated than you might think because there are a lot of different options out there.
Here are our top picks of the best ocarinas for beginners.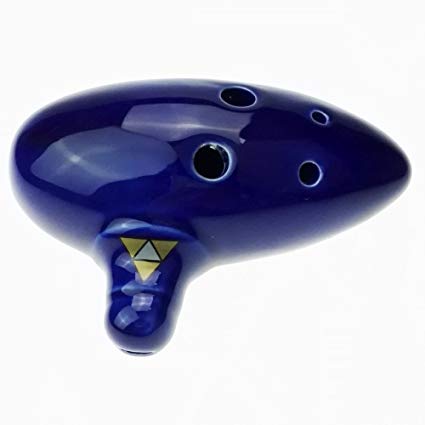 Believe it or not, our top Ocarina choice is actually a replica from The Legend of Zelda video game series. While this ocarina is sure to please fans of the series, it's simply a quality ocarina that sounds great. It offers exactly what most beginners are looking for in the instrument.
This replica, made of ceramic, is particularly easy for beginners, as it has only six holes. This ocarina also has a classic transverse shape.
This Legend of Zelda Ocarina is very well designed and simply looks great. As a bonus, it also comes with a velvet pouch and the price range is more than acceptable.
If you're looking for a quality ocarina that is easy to start playing and affordable, you can't do much better than this OcarinaWind 6-Hole Zelda Ocarina. Especially if you want to learn how to play the ocarina because you're a fan of Zelda video games, this is the ocarina for you.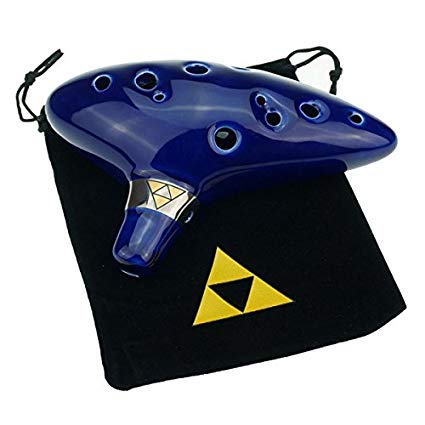 The next ocarina on our list, the Cheffort Legend of Zelda 12-hole Ocarina, is also a Legend of Zelda replica instrument. However, like the ocarina above, it is built with quality in mind and offers a lot for the price you'll pay. It's one of the best ocarinas for beginners on the market today.
There are two ocarinas made specifically for Zelda fans, as they are replicas of the instruments in the games. The Alto C Ocarina has 12 holes and is very pretty, made of kiln-fired ceramic, and true to the game's design. It also comes with music from the game.
This model is ideal for game enthusiasts who want a replica, and who are in the beginner/intermediate stage or simply want the instrument as a collectible. This 12-hole ocarina also comes with a great pouch and also comes at a very reasonable price.
Overall, this makes for a great ocarina choice for beginners. Due to the 12 holes, this may also be a great choice for intermediates as well or players who would like to eventually learn the instrument at a higher level.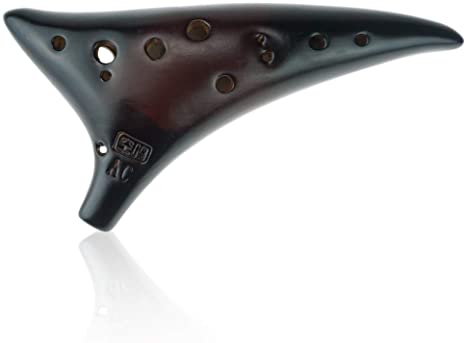 The next ocarina on our list is also a transverse shape ocarina. However, it has a bit of a different look than the above options. The ocarina features a gorgeous finish and is built really well for a beginner instrument.
The Dragon Tooth Ceramic Ocarina is an Alto C ocarina with 12 holes and will be sure to please any player that is new to the unique sounding instrument.
It's also worth mentioning that this ocarina comes as part of a package that includes an instructional songbook, a bag, and a strap. The songbook includes Zelda songs and a fingering chart as well.
Overall, this ocarina is another good choice that is likely to give anyone interested in the instrument plenty of enjoyment.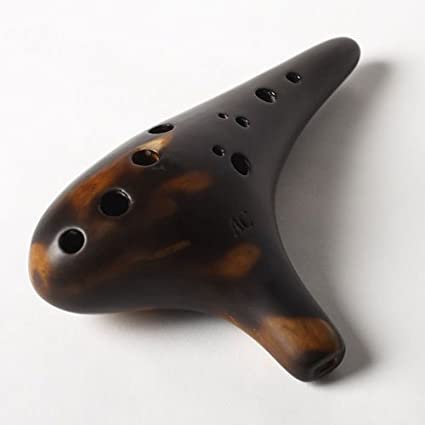 The next ocarina on our list is the 12-Hole Ocarina by Focalink. This ocarina may just be the highest quality instrument on our list. It features excellent craftsmanship and a very impressive tone.
This ocarina is made of ceramic and is an alto C ocarina that comes in a sweet potato or transverse shape. This instrument would likely work well either as a solo instrument or as part of a band or ensemble.
The intonation on this ocarina is topnotch and it keeps a tune very well. Luckily, the instrument also comes with a padded bag and a fingering chart. This means that beginners can start playing the instrument right away.
While this is one of the highest quality beginner ocarinas out there, keep in mind that it does come at a price. It's one of the most expensive options on our list.
Overall, if you're a beginner looking for a quality instrument and you don't want to skimp on the quality, this 12-hole Ocarina is probably just what you're looking for. It's truly one of the best ocarinas for beginners currently available.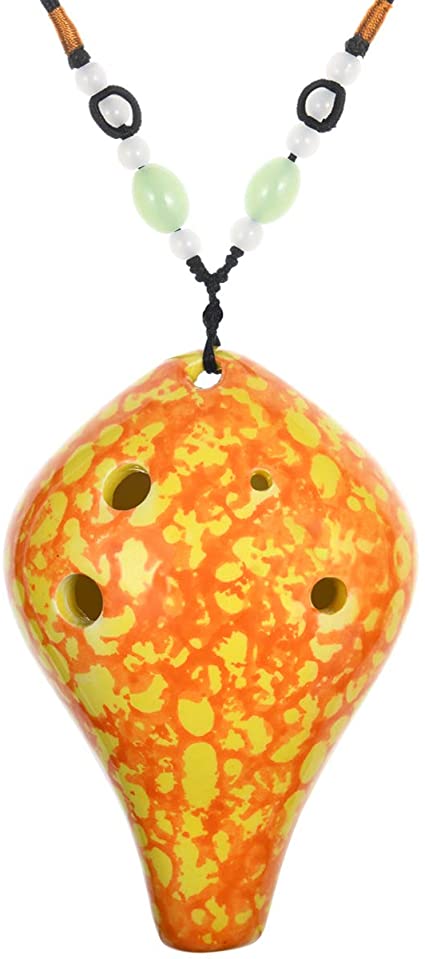 Another Zelda-inspired ocarina, the Strawfire Triforce Ocarina may just be the best 6-hole ocarina available today. This ocarina boasts great craftsmanship, an amazing sound, and a very distinctive look. The ocarina is made from porcelain clay and you can wear it as a necklace. Both yellow and blue options are available.
This is a simpler ocarina and has fewer holes than many on this list. While its range will be a bit smaller because of this, this will also make it easier for beginners to pick up and get started playing right away.
Another big benefit of this ocarina is that it comes with a lifetime warranty. This means that if you experience any problems with it as time goes by, they'll cover you.
Overall, this is a great beginner ocarina instrument that is unlikely to let any new player down.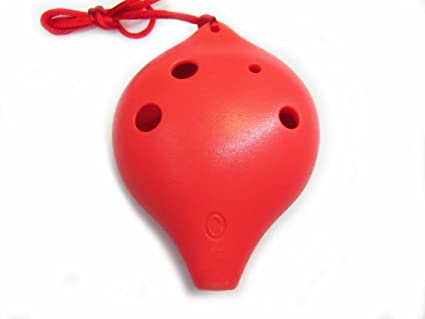 The best and simplest ocarinas for complete beginners are those from TNG's Plastic Beginner Ocarina line. This Plastic Beginner Ocarina is one of these and makes for another good option that is particularly simple to play. This is one of the best options for kids and younger players and is a very cheap ocarina.
Unlike the other ocarinas on our list, this ocarina is made of plastic rather than ceramic. However, the plastic is very durable and it has multiple color options available.
This instrument is made of plastic and therefore doesn't have the depth of sound of a wooden or ceramic ocarina. However, they do have decent sound quality. This instrument is also the smaller English Pendant type, with fewer holes. This makes for easier learning of the very basics.
Keep in mind, however, that it doesn't get much simpler than this ocarina. Someone who develops a deeper interest in the instrument will probably want to upgrade to one with more holes later on.
Overall, if you're looking for a very cheap and basic ocarina, the TNG Plastic Beginner Ocarina is a decent choice. It will suit children and young beginners particularly well.
Choosing the Right Ocarina as a New Player
While there are a lot of ocarinas out there, the above options are some of the very best ocarinas for beginners that you're likely to find. Along with the melodica and the kalimba, this is one most unique instruments around and is a lot of fun to play around with. It's hard to beat the distinct sound you can get from any of the ocarinas listed above.
By considering the best ocarinas for beginners listed above, you should be able to find the right ocarina for you that gives you exactly what you need to get started with the instrument.
Looking to get started with the accordion instead? Click here to see our list of the best accordions for beginners.