Looking for the best chromatic harmonicas available?
Want to get started with this fun-to-play instrument?
One of the most overlooked instruments in the band or orchestra is the chromatic harmonica. Many people don't realize how essential a chromatic harmonica is to contributing to the charismatic sound of blues, rock, jazz and even classical music. Some of the best harmonica players of all time have made great use the chromatic harmonica and prefer it over its diatonic counterpart.
Dedicated musicians prefer harmonicas in the key of C because a chromatic harmonica can play in any key by having the 12 notes of the Western scale in each octave. Although harmonicas come in 8, 10, 12, 14 and 16 holes, the 12-hole one is the most versatile and the best for beginners to buy. However, more advanced players typically prefer to use a 16-hole harmonica.
Depending on the degree of professionalism required and your budget, there is a large selection of chromatic harmonicas available. Below we'll give you our overview of the best chromatic harmonicas on the market today.
Best Chromatic Harmonicas – Quick View
Top Chromatic Harmonicas – REVIEWED
Ready to see our list? Here are our top chromatic harmonicas choices.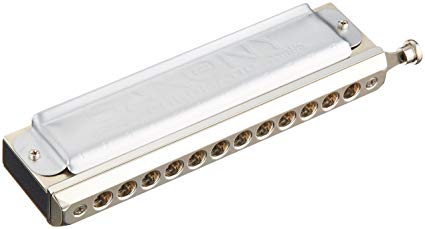 At the top of our list is the Seydel Saxony 12 Chromatic Harmonica. The Seydel Saxony 12 is constructed from German silver and is one of the best chromatic harmonicas from one of the top harmonica producers in the world.
This is the first serial-produced harmonica with stainless steel reeds. The harmonica's reed plates are made of German silver and its new design has an improved slider. The chromatic harmonica is available in a variety of smooth, matte finishes in the key of C or G.
Luckily, this instrument is still within the moderately-priced range of chromatic harmonicas, thus confirming that manufacturing techniques can produce great harmonicas with melodic sounds. However, it may be a bit too pricey for complete beginners to the instrument.
Overall, the Seydel Saxony 12 is a great chromatic harmonica that boasts topnotch quality and an excellent tone. Make sure you consider this product early on in your search of the best chromatic harmonicas.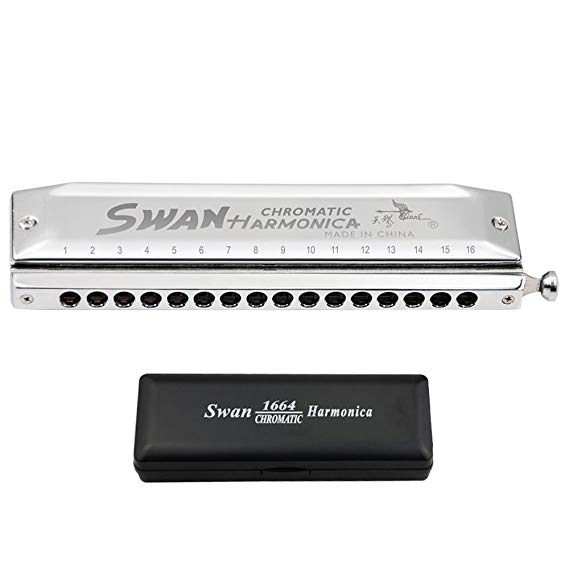 The Swan SW 1664 Chromatic Harmonica is a good choice for beginners. It's an inexpensive instrument that is well designed and features rounded edges and sides.
With its 16 holes and 64 tones, this harmonica allows the player to adapt to all kinds of music with a four octave range. The instrument is also compact in size and weighs approximately one pound. This harmonica is also easily taken apart for cleaning.
This is one of the best chromatic harmonicas for student players. It produces a deep, evocative sound, but you will need patience, practice and a lot of wind to produce the sound you are seeking.
This chromatic harmonica comes with a sturdy, dust-proof, rubber compound case for durability and protection.
Overall, if you're looking for a high-quality and extremely playable chromatic harmonica, this is one of the first instruments you should consider buying.

The Hohner 255 Chrometta 12 is half the weight of the Swan SW 1664 C 16H 64R. This a good choice for advancing students, but is great for beginners as well.
This is one of the best chromatic harmonicas and you will feel at home playing, rock, pop, jazz or any other music. It has a clean, sharp, constant tone. Like other chromatic harmonicas, this harp will let you play every scale in any key.
The chromatic harmonica has wider channel openings which makes it easier to play single notes. This model has a full, three octave range that you would expect from a more expensive instrument.
Unfortunately, this harmonica doesn't come with the perfect case. It leaves a little to be desired appearance wise.
Overall, however, this is a great chromatic harmonica that more than lives up to the Hohner name.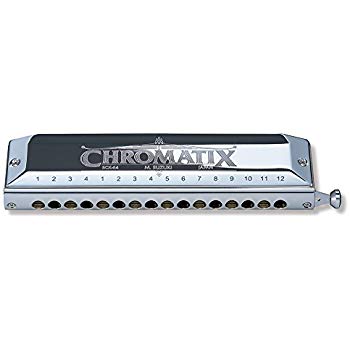 The Suzuki SCX-64C is a lightweight and larger instrument that is another great choice for aspiring players.
This chromatic harp features durable-compound construction and easy portability. The instrument is chosen by many professionals due to the smooth and consistent tone that comes out of this Suzuki harmonica. It's also very lightweight, coming in at only eight ounces.
This is one of the best chromatic harmonicas in its price range and is a pleasure to play for extended periods with its smooth slide mechanism and ABS comb. It is skillfully constructed and this airtight, chrome-plated harmonica has a powerful, melodious sound. Additionally, this chromatic harmonica comes in a top-of-the-line velvet-lined case.
Overall, this Suzuki harmonica is another excellent that very few players would be disappointed with.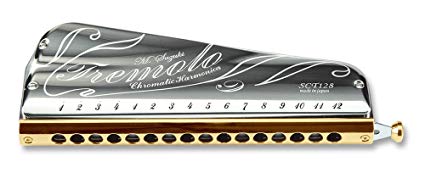 The Suzuki SCT-128 Professional is one of the most expensive in its class, but this is more than just a typical chromatic harmonica. This is a tremolo harmonica that simply looks amazing and feels great to play. This uniquely shaped harmonica will be sure to turn plenty of heads.
If you are looking for the crème de la crème of all chromatic harmonicas, is the one for you. This is one of the best chromatic harmonicas produced during Suzuki's 60 years of instrument manufacturing and definitely one for the connoisseur.
This is a 16 hole, high quality, tremolo harmonica that boasts a unique sound and a stylish, innovative shape.
The instrument weighs a little over a pound and also contains an innovative gold-plated, brass mouthpiece.
This Suzuki harmonica also comes with a quality, tooled leather case, that is perfect for taking it on the go.
Overall, this is another great chromatic harmonica. It's an expensive but high quality option that will deliver everything you need when it comes to quality, playability and tone.
Final Thoughts
If you're looking for a great chromatic harmonica, any of the choices on the above should leave you satisfied. However, remember that choosing the right instrument is not an easy task; there is no 'trying before buying,' so do plenty of research before you decide on the right one for you.
Looking for a diatonic harmonica instead? See our list of the best diatonic harmonicas for beginners now.