Disclosure: Some of the links in this post are affiliate links. That means that if you click on a link and purchase an item, we may receive an affiliate commission at no additional cost to you. As an Amazon Associate I earn from qualifying purchases.
Looking for the best studio monitors under $200? Need help getting that perfect mix in the studio?
While you may have paid a lot of attention to getting the perfect microphones, preamps, and other music gear in your studio, it's important not to overlook the importance of amazing studio monitors.
Whether you're a home recording maverick or you run a professional studio and record the best bands and artists in town, great studio monitors are essential. Great studio monitors will allow you to hear a mix clearly and accurately, helping you decide what to do next and what may need some tweaking.
Luckily, you can find great studio monitors in all price ranges from $100 to $1000. In this list, we'll focus on looking at the best studio monitors under $200.
Top Studio Monitors Under $200 – Quick View
Why Are Studio Monitors Important?
Studio monitors will be a great help during the mixing of a song. It will allow you to carefully listen to a song and examine the different elements at various volumes.
Doing this, you'll get a better idea of what frequencies should be boosted and which ones shouldn't. Not all speakers are made equally, so it's important that you have quality monitors to listen to a recording.
Poor speakers will color the sound in various ways, while great studio monitors will be neutral. Great speakers will leave the sound untainted and will accurately play it back to you. Great studio monitors will play your recording with an accurate and consistent response no matter what volume it's at.
Are $200 Studio Monitors Worth It?
Studio monitors can vary in price quite a bit, and you do tend to get what you pay for. The top-of-the-line studio monitors will be over $500, but they'll provide the amazing performance and power you would expect.
$200 studio monitors are definitely on the lower budget-friendly end of studio monitors, relatively speaking, but they do make pretty good choices for a range of studios. They offer a good amount of features and transparency at a reasonable price. Studio monitors in this price range are a good in-between option to consider when buying monitors for your studio.
While $100 studio monitors can be found, $200 studio monitors are a significant upgrade from monitors at lower price points. $200 studio monitors will have larger drivers than cheaper options. The included features of monitors at this price will be more impressive than the $100 options as well.
It's hard to reach the performance quality and power of $500 studio monitors. However, $200 monitors still have a lot to offer. They'll give you a good combination of versatility and features at a more budget-friendly cost.
Best Studio Monitors Under $200 – REVIEWED
So what are the best studio monitors in this price range? Below are our picks of the best pairs of studio monitors under $200.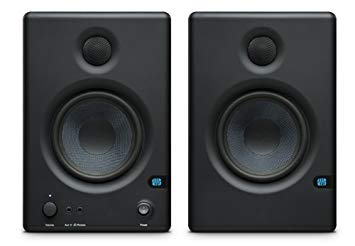 The PreSonus Eris E4.5 is the first pair of studio monitors on our list and simply offers the best features at the best price. The PreSonus Eris E4.5 offers killer performance, power, and balance.
These are powerful active monitor speakers that are not to be scoffed at. You'll have a lot of control over these speakers when it comes to adjusting the acoustics and shaping the tone. The hardware is well made and although they're not super attractive visually, the functionality more than makes up for it.
While there are some other good options on this list, it's hard to beat the amount of value you get from these speakers, especially considering the price range.
Overall, the PreSonus Eris E4.5 monitors are our top choice of the best studio monitors under $200. These are well worth your first look.

The Behringer MS40 is the second option on our list of studio monitors and is also a pretty sweet deal.
Compared to other studio monitors in this price range, these offer some pretty impressive features. These are two-way hybrid near-field monitors that are active. A lot of studio monitors in the budget range have 1″ tweeters, but the ones here are 2.5″.
The Behringer MS40 studio monitors have unique hardware along with a built-in EQ that gives you extra control. These are some great budget studio monitors for those producers who want plenty of control and versatility.
Overall, the Behringer MS40 studio monitors have a lot to offer studio engineers and aren't likely to disappoint.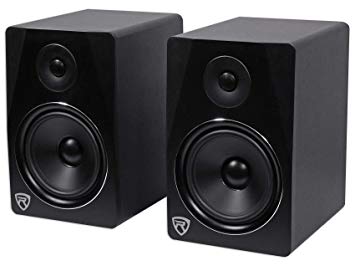 The Rockville APM8B studio monitors are another pair of speakers that boast a pretty great package. They offer 500 watts of power and boast killer performance.
The monitors are pretty impressive considering the price range these fall into. The design of the cabinet is pretty great and it offers good materials and impressive build quality.
Each speaker includes a 1″ dome tweeter and an 8″ low-frequency transducer. Additional features include a USB port as well as a paired RCA and XLR/TRS.
Overall, the Rockville APM8B studio monitors make a pretty good option and have enough power to be a big help in the studio.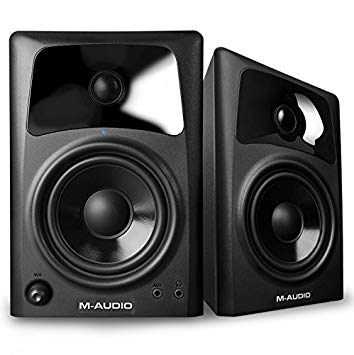 The M-Audio AV42 studio monitors are another pick on our list of studio monitor pairs and offer a lot of value for any producer on a budget.
The M-Audio AV42 studio monitors offer a lot of transparency and power. The studio monitors also offer M-Audio tweeter waveguides.
Once you turn the volume up, you'll realize just how much power these speakers have. If you want plenty of power and transparency but have less than $200 to spend, these studio monitors won't let you down. These are great for beginners and experienced producers who need some great speakers for working on a mix.
Overall, the M-Audio AV42 studio monitors are a pretty good budget option if you're looking for the top studio monitors under $200.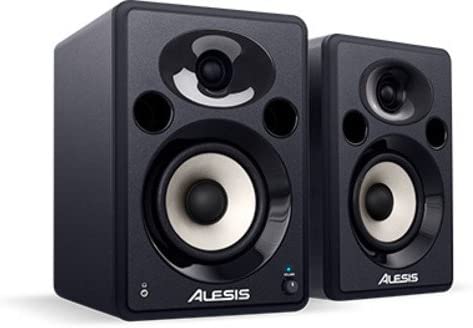 The Alesis Elevate 5 MKII Studio Monitors are also well worth your consideration if you want to have a great studio setup. These monitors are very affordable but offer an impressive sound, giving you a lot of bang for the buck.
These speakers feature separate high and low-frequency drivers with crossover. They offer 40 watts per channel and 80 watts total. The speakers are housed in high-density wooden cabinets that help to suppress any unwanted resonances and feature a 5-inch low-frequency driver which offers a solid bass sound. The 1-inch silk dome tweeter offers clear highs.
The pair of speakers come with an RCA-to-1/8" (3.5mm) audio cable, a 1/4" (6.35mm) interconnection cable, and a power cable, so you'll have everything you need in the package.
Overall, these Alesis speakers offer a pretty good sound. While they aren't quite to a professional-quality level, they are a pretty good value for under $200.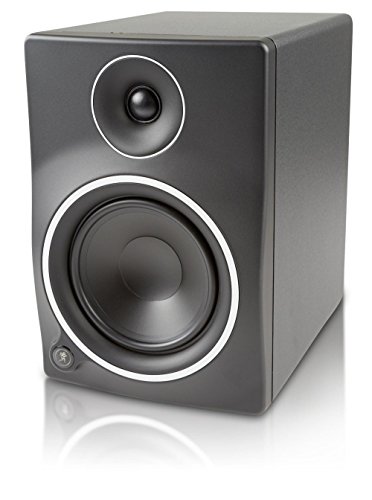 The Mackie MR6 Mk3 2-way studio monitor makes for another great option if you're on the hunt for some great studio speakers. While you'll only get one speaker under $200, we thought that this monitor was so good that it was worth mentioning anyway. If you're on a budget, having just one of these can be helpful, while you save up for the second.
The hardware of this studio monitor is pretty powerful and includes a 6.5″ low-frequency driver. This Mackie MR6 Mk3 studio monitor offers a lot of power with just the right amount of simplicity.
While these monitors are quite powerful, they don't have a huge amount of features compared to other options. However, these are perfect if you want great studio monitors in a simple but powerful package.
Overall, the Mackie MR6 Mk3 studio monitors are a great choice for producers who want plenty of power along with simplicity.
Choosing the Perfect Studio Monitors for Your Studio
While great microphones, compressors, and preamps can help you get a great recording, an amazing pair of studio monitors can help you confirm that you've done your job right.
With good studio monitors, you'll be able to hear your mix with perfect clarity and you'll know exactly how to proceed when moving toward a finished recording. If you're looking for the best studio monitors under $200, any of the pairs of speakers listed should give you exactly what you need.