Disclosure: Some of the links in this post are affiliate links. That means that if you click on a link and purchase an item, we may receive an affiliate commission at no additional cost to you. As an Amazon Associate I earn from qualifying purchases.
Looking for the best microphones for live vocals? Ready to take your voice to the stage?
If you're getting ready to take your voice to the stage, either with a band or solo, you'll want to make sure you have a great stage microphone for the job. Unfortunately, not all vocal mics are made equally.
While some mics are better suited for the studio, others are better for live performance instead. If you're planning a live performance, you need to make sure you have a mic that will help your voice sound amazing in a live setting.
If you're searching for the very best microphones for live vocals, this list will tell you what you need to know. Below we'll give you our list of the best vocal mics for the stage.
Best Microphone For Live Vocals – Quick View
| Image | Model | Summary | Price | | |
| --- | --- | --- | --- | --- | --- |
| | Neumann KMS 105 MT Condenser Mic | A high-quality but expensive condenser mic that is well-suited for performers who want every bit of their vocal details and nuances heard. | | | |
| | Shure SM58 Dynamic Vocal Microphone | A well-priced microphone with a reputation as an industry standard. A great choice for all scenarios and situations. | | | |
| | Shure Super 55 Deluxe Vocal Mic | This high-quality mic from Shure boasts an incredible retro look as well as crystal clear sound. | | | |
| | Audix VX5 Supercardioid Condenser Microphone | A versatile condenser microphone that boasts smooth frequency response and excellent clarity. | | | |
| | Sennheiser e935 Dynamic Mic | A versatile German-designed mic with a bright sound and plenty of durability. | | | |
How to Choose the Best Live Vocal Mic
So how do you pick the best live vocal mic out of the many options available? There's a lot to know about the best microphones for live vocals and it would take an in-depth article to cover everything. However, here are a few things you'll typically want to look for in a great vocal mic for gigging: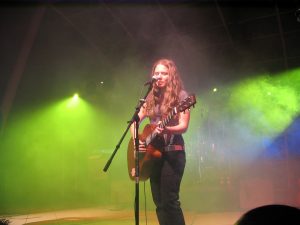 Condenser or Dynamic – Compared with a dynamic microphone, a condenser microphone typically does a better job at picking up the subtleties of a singer's voice. However, dynamic mics are a good choice as well because they are usually more durable and pick up less feedback.
Cardioid Polar Pattern – A cardioid or supercardioid polar pattern picks up sound in a heart shape around the microphone and doesn't allow for excess background noise. This is usually ideal for singers.
Low Impedance – A microphone with low impedance will typically convey the sound from a singer in the most crystal clear way with minimal deterioration of the audio signal.
Flat Frequency Response – A higher frequency flat frequency response is usually ideal for singers. 80Hz to 15kHz is often the sweet spot. However, some of this depends on each singer's personal preference, style, and singing pitch.
Each vocalist will vary in some ways and what kind of mics work best for them will change as well. However, when in doubt the above list should give you an idea of what you should be looking for in a great stage microphone.
Top Vocal Mics For The Stage – Reviewed
Now that you know what to look for in a mic, below we'll give you our complete list of the best live vocal mics.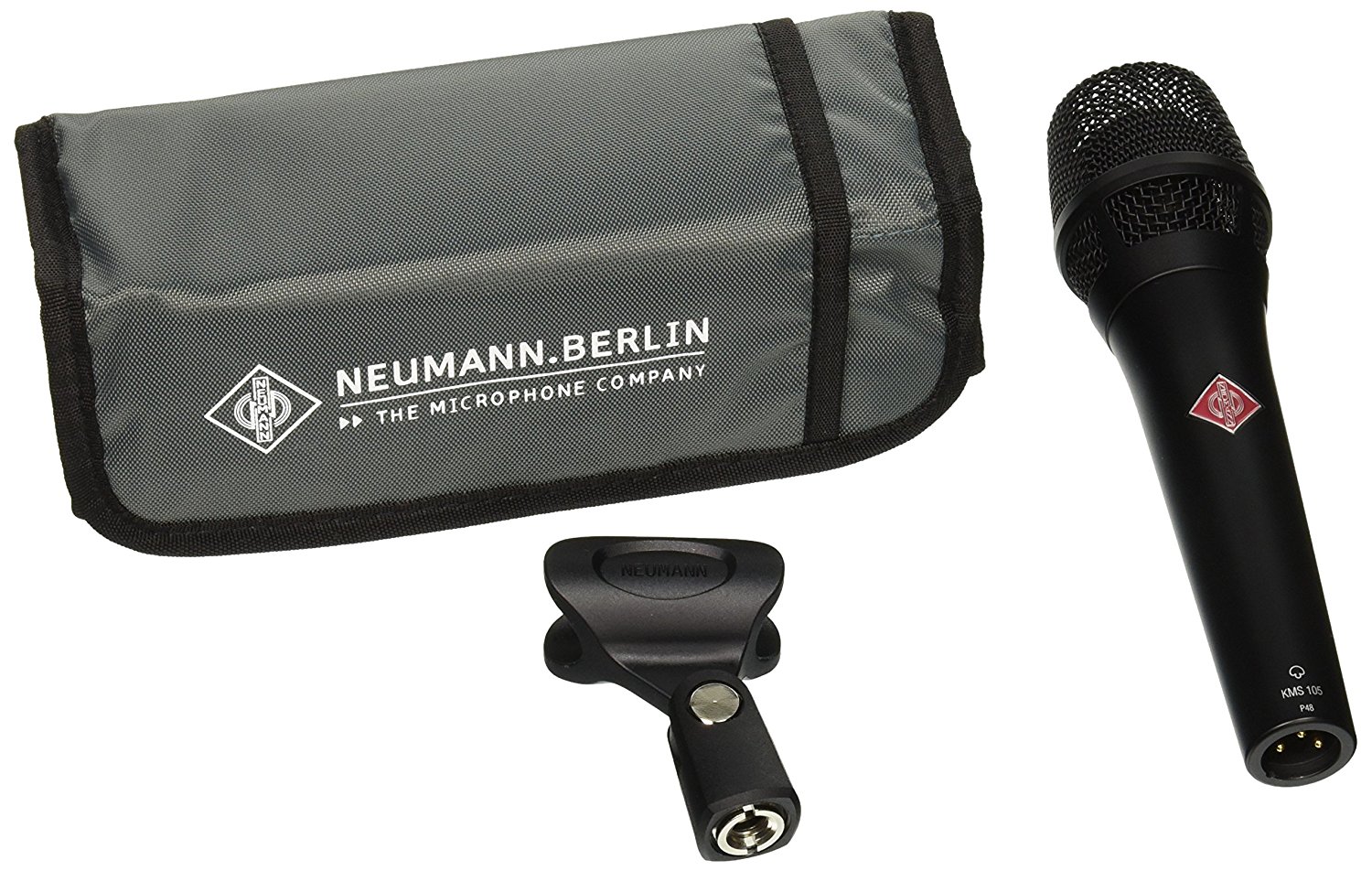 Pros:
High-resolution sound quality
Offers a clear, authentic sound
Excellent noise and feedback rejection
Alternate versions (KMS 104 and 104 Plus) are also available
Cons:
The Neumann KMS 105 MT Condenser Mic is the top microphone for live vocals on our list. Many popular singers use this mic live in concert including legends such as Norah Jones and Michael Buble.
One great thing about the KMS 105 MT is that it's particularly good at blocking out the sound that is coming in from a full 180° due to the super-cardioid polar pattern. This Neumann mic has a 120Hz high-pass filter that makes use of electronic compensation along with the proximity effect.
This is a super-cardioid condenser microphone and 48v of phantom power is required for this Neumann mic. The mic has a frequency response of 28Hz to 20kHz and a maximum SPL of 150 dB.
The Neumann KMS 105 MT has an excellent, natural sound that offers crystal clear sound quality. This mic is a master of rejecting feedback and noise. This mic offers high-resolution sound and plenty of audio transparency.
This microphone is particularly well suited for performers who want every bit of their vocal details and nuances heard. Jazz and acoustic styles may be better suited for this microphone than hard rock or metal genres.
For female pop singers and rock vocalists, the KMS 104 Plus is also available and features an extended low-frequency response.
Unfortunately, it should be noted that this mic is a little bit on the expensive side. If you're looking for a cheaper option you may want to check out some of the mics listed below instead.
Overall, if you're looking at having the absolute best vocal mic for your live performance, you don't need to look any further than the Neumann KMS 105 MT.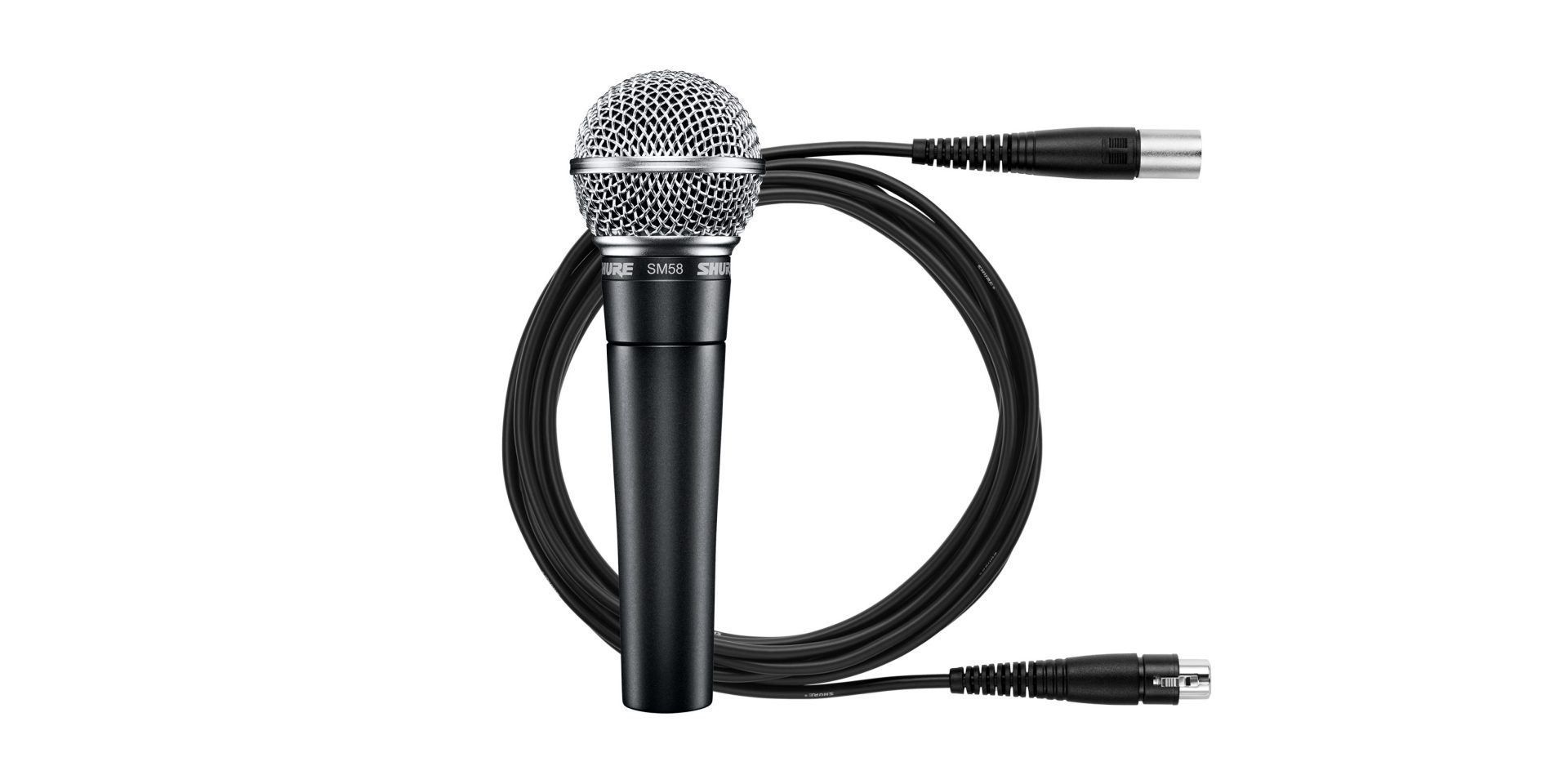 Pros:
Industry-standard reputation
A well-rounded choice great for all scenarios
Superior durability and reliability
Great versatility; perfect for other uses as well
Cons:
May be too limited for experienced singers with more specific needs
The Shure SM58-LC Vocal Microphone takes the second spot on our list, and for good reason. This is another excellent option that is one of the best microphones for live vocals in the world. It's a great mic that is considered an industry standard for vocalists of all kinds in all scenarios.
This microphone is dynamic and has a cardioid polar pattern. The frequency response is 50Hz to 15kHz and it has an impedance of 300 Ohms. The SPL capability of this mic, at 94dB, is a bit lower than some of the others listed here.
This is a classic mic that dates back to the 1960s and still has basically all of the same design features that it had at that time.
The microphone actually has 3 different versions that vary slightly. The SM58-LC, SM58S, and SM58-CN all have a few differences. It's actually very simple to tell them apart:
The SM58S has an on/off switch.
The SM58-LC doesn't have an on/off switch.
The SMB58-CN doesn't have a switch but comes with a 25″ XLR cable.
This classic microphone is also the perfect choice if you're looking to achieve a classic rock sound. The Shure SM58 responds well to EQ, has great capabilities, and is just about as sturdy as they come.
Truth be told, few mics are as reliable and versatile while also having such great value as the SM58 mic. The Shure SM58 Microphone is a well-rounded mic that is the go-to choice for many singers.
While there are better ones on the market depending on your specific needs, few mics are as capable in all areas as this one is. This microphone boasts a lot of versatility.
Overall, the SM58 remains one of the best dynamic vocal mics for live vocals that are out there. It has earned its reputation from decades of use by musicians of all kinds.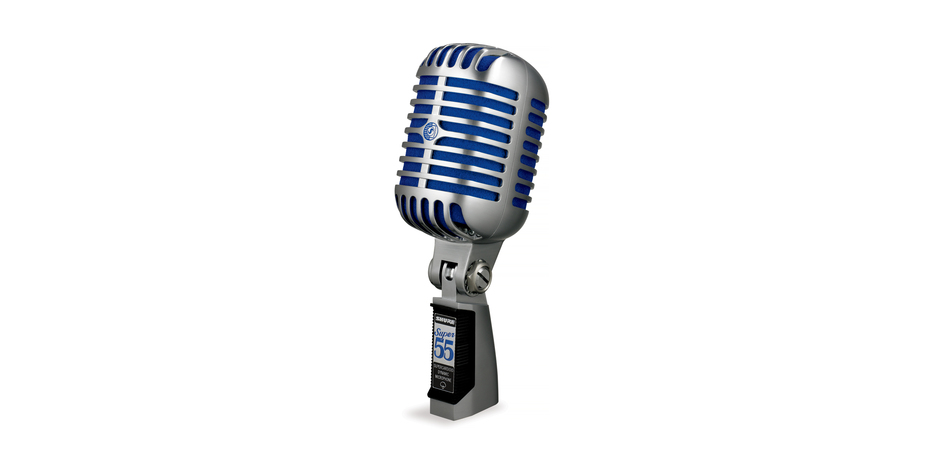 Pros:
An eye-catching classic look
Excellent sound quality
Perfectly utilizes the full spectrum
Cons:
A bit on the heavy side
A bit pricey
Somewhat sensitive to "P" sounds
The Shure Super 55 Deluxe Vocal Mic is another great vocal mic by Shure that does not disappoint.
This microphone has a super-cardioid pickup and 120° off-axis lobing. It also boasts a full-spectrum extended response. This mic has an impedance rating of 150 Ohms and is made to easily pair with other audio equipment. This mic doesn't have a power button.
This deluxe vocal mic has a killer retro look with a high-quality pickup to go along with it. The mic offers a 6-7 kHz boost for a bit of extra volume and power.
Featured inside the retro casing of this mic is the Shure Beta 58. The mic offers the Beta 58's warm, extended tone along with some excellent noise and feedback reduction capabilities.
The audio of this mic is crystal clear and very clean. The sound of this microphone earns it a very well-deserved spot on this list. This microphone sounds just as great when used with vocals or even instruments as well.
It should be noted that this mic is a bit on the heavy side. It's not ideal to hold while singing.
Overall, the Shure Super 55 is pretty hard to beat. It's simply one of the best microphones for live vocals you're likely to find, especially if you're looking for a mic with some serious visual style.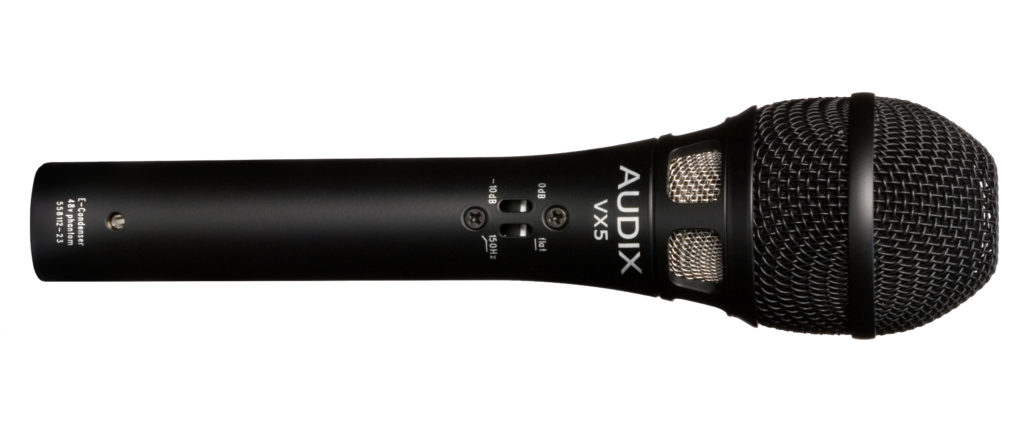 Pros:
Smooth frequency response and excellent clarity
Good versatility; also perfect for studio settings or instruments
Ideal for lower voices
Cons:
The Audix VX5 Condenser Microphone is another great vocal mic that is not to be scoffed at. This Audix microphone simply offers some amazingly clear sound and great clarity.
This mic is a great choice to use for vocal needs but can also work perfectly for other instruments as well such as drums, acoustic guitars, or wind instruments. No matter what the sound source is for this mic, chances are that the VX5 mic has the versatility to handle it.
This is a condenser microphone with a tight supercardioid polar pattern. It has a very smooth frequency response at 40Hz-16.5kHz and an impedance of 150 ohms. The microphone uses 48V phantom power.
Unlike some other mics out there, this condenser microphone has the quality and reliability to be used to great effect both in the studio and live on stage.
Overall, the Audix VX5 is another killer choice if you're looking for the best microphones for live vocals. This is an amazing live vocal mic that is sure to serve you well on stage.
While condenser mics are more often used in the studio, they can work well live in some cases as well. You may want to see our post on dynamic and condenser mics to learn more.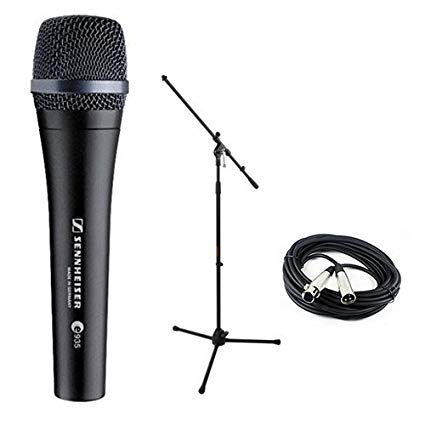 Pros:
Bright sound with high-resolution quality
Versatile, well-rounded mic
Durable metal body
Great at rejecting feedback
Cons:
The Sennheiser e935 takes the next to last spot on this list but still boasts a pretty great reputation of its own. This German-designed and manufactured microphone offers great usability, superior engineering, and excellent sound. It's one of the best microphones for live vocals in the world.
This mic offers a clear, natural, and authentic sound. The e935 has a well-balanced sound and has a good even frequency response throughout its range.
This is a dynamic microphone with a cardioid polar pattern. The mic has a frequency response of 40Hz to 18kHz and an impedance of 350 Ohms. This Sennheiser also has a maximum SPL of 155 dB.
Sennheiser has built a hum-compensating coil into this mic which helps to minimize electrical interference. The mic also has a shock-mounted capsule that helps to lower the amount of handling noise.
The build of this microphone is more than adequate. The manufacturers have made sure that this mic is well-built and it offers excellent durability and strength.
Overall, the Sennheiser e935 offers what just about any live vocalist will need, and at a very reasonable price point.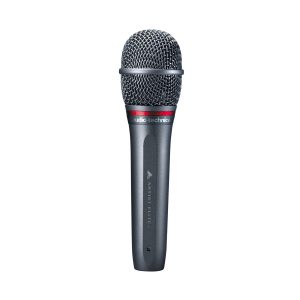 Pros:
Offers a warm, mellow sound
Handles intense performers well
Does a great job with plosives
Durable enough for use on the road
Cons:
You'll need to stay close during a performance
The final live vocal mic on this list comes from a very trusted name in the sound industry, Audio-Technica. The Audio-Technica AE6100 mic is a great option for performers that have a lot of intensity and love to get close to a mic during a performance. This makes it a great choice for metal vocalists, rappers, or anyone who has a bit more of an up-close relationship with the mic that they perform with.
This mic features a hyper-cardioid pattern that does an excellent job of preventing feedback and handling plosives. The mic offers an exceptional on-axis response, a high output, and a clear sound. The Audio-Technica mic offers a frequency range of 60Hz-15kHz and offers great performance overall.
In addition to its great performance, this is a pretty durable and rugged mic, so it's sure to be of great use to you on stage. This is a mic that will be sure to stand up well to time spent on the road gigging.
Overall, this is a durable mic that stands up to intense performers well. You should definitely consider it if you're looking for a reliable vocal mic for the stage.
Choosing the Best Vocal Mic for Performing Live
If you're looking for the best microphones for live vocals, any of the above mics will rise to the occasion. It can take time to perfect your live sound, but by choosing and using one of the above vocal mics you'll have the best chance at making the process as easy as possible.
Want to take your singing to the next level? If so, you may want to check out our review of the Singorama singing course now.