Disclosure: Some of the links in this post are affiliate links. That means that if you click on a link and purchase an item, we may receive an affiliate commission at no additional cost to you.
Looking for the best resonator guitars?
Trying to find a great round neck resonator?
While we've previously posted a list of the best dobros and square neck resonator guitars on the market, we've yet to compile a list of the round neck resonators. The round neck resonator guitar is a staple of the blues genre and can be a huge amount of fun to play. No sound quite matches what you can get out of this unique, resonant instrument.
If you're ready to buy a resonator guitar, look no further. Below we'll give you our list of the best round neck resonator guitars.
Top Round Neck Resonator Guitars – Quick View
Difference Between Round Neck and Square Neck Resonator Guitars
There are different types of resonator guitars out there, so it's important to understand this when getting ready to buy one for yourself
. The two types are round neck and square neck resonators. But if you don't know about this instrument you might not know what the differences are yet. Here is a quick overview of the differences between these two types of resonator guitars.
With square neck resonators, you'll be playing it on your lap
similarly
to a steel guitar. You'll also always use a slide or a bar of some kind on the fretboard. The neck of these resonators is square and extra wide, unlike a guitar.
As a side note, square neck resonators are often referred to as "dobros", particularly in the bluegrass genre which
is known
for great players such as Jerry Douglas
. If you're in the market for a square neck resonator instead, you may want to check out our list of the best dobros now.
Most guitarists who switch to the resonator guitar will want to play around neck resonator
. These can
be played
just
like a normal guitar and will
be fretted
with your fingers rather than with a bar or slide.
However
,
just
like a guitar, you can play it with a slide as well.
These resonators are good to use when strummed, picked, or with fingerpicking. This type is likely the better choice for anyone looking to play in the blues genre. While there are plenty of acoustic guitars out there that are great for the blues genre, many people prefer the sound of a quality resonator above all else.
Best Round Neck Resonator Guitars
Ready to see our top picks? Here's our list of the top round neck resonator guitars.
Our top choice of round neck resonator guitars comes from Danelectro.
The Danelectro '59 Acoustic-Electric Resonator Guitar is a great vintage-style resonator that can
be plugged
in for extra volume
. This resonator has a smooth neck made of maple and a double-cutaway Shorthorn body. The guitar has a Schatten piezo and a 56 Lipstick pickup.
This acoustic-electric resonator is very flexible and perfect for the blues.
This round neck resonator is ideal for both fingerstyle performances and slides but would also be great for the blues
.
Overall
, this is a great round neck resonator guitar, and in our opinion, it's the first one you should consider if you're ready to own a great resonator guitar
.
For anyone looking for an affordable round neck resonator, the Rogue Classic Spider Resonator Guitar is the best option out there
. It's well worth the small amount of money you'll pay for it.
This cheap round neck resonator plays pretty well and the sound is pretty decent too. This round neck resonator offers plenty of sustain and a fair bit of volume as well.
This instrument has a spruce top as well as a back and sides made of mahogany.
This is a pretty basic instrument without much flair but is still a great option for beginners or anybody on a budget
.
Overall
, this may not be the best round neck resonator on the market today, but it is one of the best values you're likely to find
.
The third resonator guitar on our list is the Gretsch Honey Dipper. Gretsch
truly
offers a great value with this beautiful resonator guitar. The body
is made
of nickel-plated brass and
simply
looks amazing.
For anybody who loves the distinct sounds of these full metal resonators, this is one of the best money can buy. This sounds quite a bit different from typical wood-bodied resonator guitars.
Tone-wise, this instrument offers a great vintage sound that is clear and strong.
The Gretsch Honey Dipper will offer plenty of volume for
all of
your performance or practice needs and is one of the best resonator guitars for the blues
.
Overall
, this is the best choice out there if you're looking for a metal-body round neck resonator.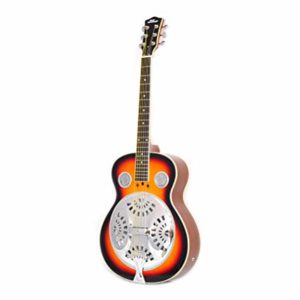 The Pyle PGA48BR is the last choice on our list of the top resonator guitars.
Like the Rogue resonator mentioned above, this resonator is more on the basic side of things. This cheap resonator guitar offers a mix of price and quality that players will love. This is one of the best round neck resonators for beginners but would be great for anybody who is on a budget as well.
One great thing about this resonator is that it is acoustic-electric. The electronics are more than adequate and come with a 3-band EQ.
This Pyle instrument features a beautiful sunburst finish along with a laminated spruce top and mahogany back and sides
. A few useful accessories are also included with this instrument.
Overall
, this Pyle resonator guitar is well worth your consideration if you're looking for a round neck resonator guitar
.
If you're looking for the best resonator guitars, this list is a great place to start.
Each of the above instruments offers a great mix of quality and value and are great for both experienced players and beginners alike
.
Want to make the most out of your resonator guitar? Click here to learn about the best alternate tunings you should try using on your guitar.