Disclosure: Some of the links in this post are affiliate links. That means that if you click on a link and purchase an item, we may receive an affiliate commission at no additional cost to you. As an Amazon Associate I earn from qualifying purchases.
Trying to find the best electronic drum sets under $1000?
Want a great electronic kit but don't want to spend an arm and a leg?
Electronic drum sets are great options for people who are just learning to play drums or for people who need a quiet alternative to a real drum set. They offer quite a few benefits that will serve drummers well, giving them a chance to practice or perform without the hassle of a regular set.
Unfortunately, real drum sets are incredibly loud and produce a great deal of noise. If you live in a condominium, apartment, or even a townhouse you won't be able to play real drums too well. An electronic drum set is a great alternative because it won't be too loud unless you're plugged into an amp.
Electronic drum sets are also incredibly versatile and compact as well, meaning that they can go just about anywhere. As long as you have some great drumsticks in your hands, you'll be able to play your heart out.
If you're looking for a great electronic drum set for the money, look no further. Here are some of the best electronic drum sets under $1000.
Best Electronic Drum Sets Under $1000 – Quick View
Top Electronic Drum Sets – REVIEWED
Searching for great electronic drum kits for a good price? Check out our favorites now.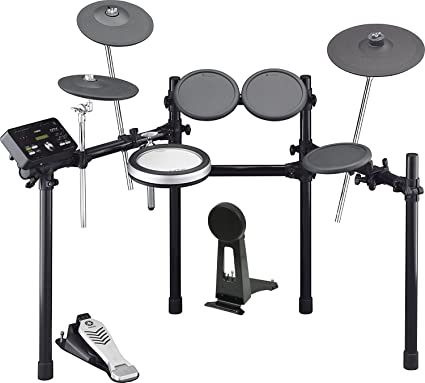 The first electronic drum set on our list is the Yamaha DTX522K.
This is one of the best drum sets on the market and compares to other drum sets that are priced much higher. It features a compact system that is stylish and able to fit in any room.
This kit has several great features including a realist 3-zone cymbal pad, the powerful DTX502 drum trigger module, and iOS app integration for enhanced customization. The set also includes a huge selection of preloaded music samples for you to play along with.
The drum kit has a well-built interface that allows for incredible sound. It also offers unique and customized positioning of all the pads for added comfort and flexibility.
The only drawback is that this set doesn't include a kick pedal.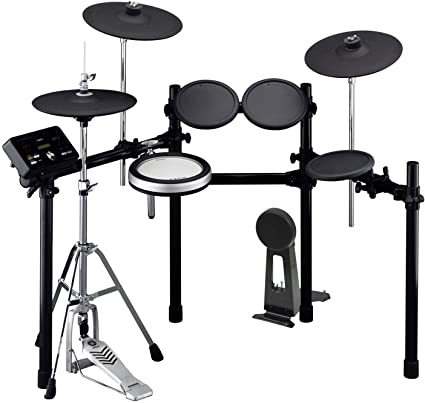 Another great drum set by Yamaha, the Yamaha DTX532K is another great option under $1000. This set has a lot of similarities with the other Yamaha set, but adds in some additional features and is a bit more expensive.
This electronic drum set is very similar to real drum sets because of the way the pads and drum pedals actually sound. It is difficult to hear the difference between these pads and traditional drums. This set includes a sound module and 700 different sounds to allow for unique music that no one has ever heard before.
Additionally, the ability to easily adjust the positioning of the pads is great for musicians of all ages and experience levels.
Like with the previous Yamaha set, you'll also need to supply your own kick pedal.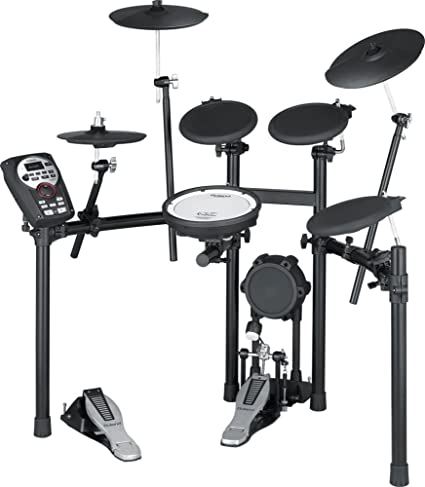 The Roland TD-11K is another great electronic drum set for less than $1000.
This electronic drum set is a very affordable and well-priced set. It includes all the essentials of an electronic drum set and is made by one of the leading brands, Roland.
It includes a natural sound engine and a media library with many preloaded songs for you to play with. This system is able to easily be positioned for comfort, however, some pads are unable to be moved into precise locations.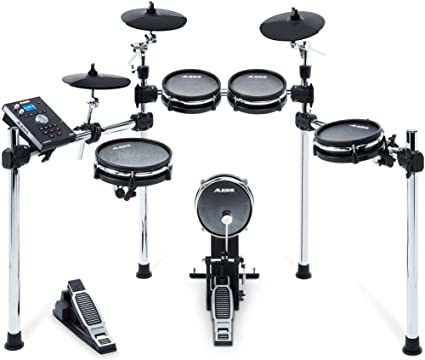 If you're looking for the best electronic drum sets under $1000, the Alesis Command Mesh Kit is another option that is well worth a deeper look.
If you are looking for an electronic drum set that looks like the real thing this is the closest that you may be able to get. The mesh design of the pads helps produce incredible sound.
It includes the standard features of a drum set and places all pads in the standard position. It features over 600 sounds and music samples to choose from.
By the way, we liked this electronic drum set so much it's also featured on our list of best electronic drums overall. Be sure to check out that list after you're done with this one for more ideas.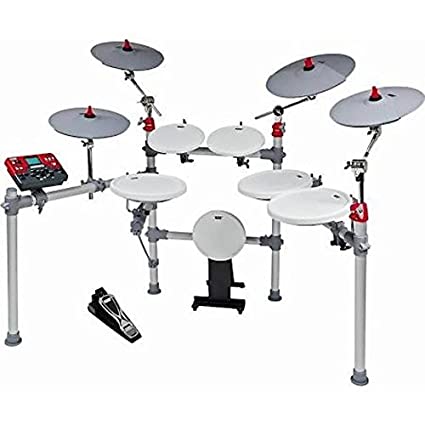 The Kat Percussion KT3 is the final drum set on our list.
This all gray and white electronic drum set looks different than other sets because of the cool color. It features the essentials of real drum sets and allows for added customization.
You can easily move all the parts to help fit your comfort zone and comfort level. This drum set includes a floor pad and kick pad, however, it does not feature a kick pedal like traditional drum sets.
Final Thoughts
If you are looking for an electronic drum set, these are some of the best electronic sets on the market. They all have the ability to play quietly into headphones or loudly into an amp. They are ideal for all musicians wanting to play quieter in their homes.
Looking for more ways to practice your drum skills at home? Check out our list of the best drum practice pads now.