Disclosure: Some of the links in this post are affiliate links. That means that if you click on a link and purchase an item, we may receive an affiliate commission at no additional cost to you. As an Amazon Associate I earn from qualifying purchases.
Trying to find the best acoustic-electric guitars under $300? Desperately searching for the best budget acoustic-electric guitar?
Acoustic-electric guitars are acoustic guitars that include a magnetic pickup or microphone that allows you to plug the instrument in for extra volume, exactly as you would an electric guitar. They are great guitars that many of the best musicians use and they can make it easy to perform on stage or plug your instrument in at a local open mic night.
Unfortunately, finding the perfect guitar or instrument can be a great challenge because there are so many different brands and styles on the market.
Luckily, that's why we're here. If you're looking for an acoustic-electric guitar you can find many great options under $300. Here are some of the best acoustic-electric guitars at that price point.
Best Acoustic-Electric Guitars For Under $300 – Quick View
Why Buy an Acoustic-Electric Guitar Instead of an Acoustic?
If you're buying a guitar for the first time, you may be wondering why you would choose to buy an acoustic-electric guitar instead of a standard acoustic or electric one. There are many reasons for this.
One of the top reasons to buy an acoustic-electric guitar is if you plan on plugging it in often. Acoustic-electric guitars can be easily plugged in for live performances or for recording purposes. To amplify the sound of a standard acoustic guitar, you'll need to have an extra microphone.
Most electro-acoustic guitars also have EQ controls built-in, allowing players to sculpt the sound to their liking. Especially if used with a great acoustic preamp, these guitars can have a nice, warm sound.
Additionally, some players use acoustic-electric guitars with certain guitar pedals as well. The looper pedal, in particular, is a favorite of acoustic players.
Best Acoustic-Electric Guitars For a Budget – REVIEWED
Ready to find a great guitar that won't break the bank? Check out these acoustic-electric guitar reviews now.


The first guitar on our list is the Fender CD-60SCE. This acoustic-electric guitar is made by one of the most popular companies in the world, Fender. This guitar has a great natural look and offers a great resonant sound and a wonderful feel.
The guitar is available in different body designs to fit the style of music you want to play. The guitar also features a built-in tuner which is a big bonus.
Overall, this is truly one of the best-sounding acoustic-electric guitars out there. You can't do much better than this.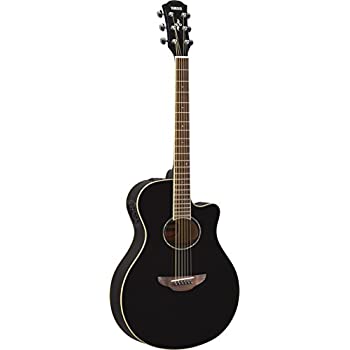 The next acoustic-electric guitar on our list is the Yamaha APXT600 BL Thin Body Acoustic-Electric Guitar.
This thin acoustic-electric guitar is a beautiful guitar that is made by one of the most respected companies in the music industry. This guitar is especially good for beginners because it doesn't cost too much to get your hands on.
The instrument produces a clear, resonant tone, and plays well. It's a well-built and well-designed guitar that comes with a wonderful sound and a great look.
Overall, if you're looking for the best acoustic-electric guitar out there, this one will do just fine. This is a good, cheap guitar that will give you the quality and sound you need.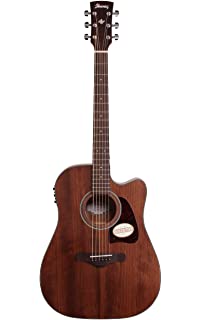 The Ibanez AW54CEOPN Artwood Guitar is another great instrument that won't break the bank. This is an incredible dark wood guitar that includes a built-in tuner that can help you ensure your guitar sounds perfect.
This solid mahogany wood top is sure to result in plenty of people asking you where you got it. The guitar creates a clear and loud sound that you'll want to listen to for hours.
Unfortunately, this guitar doesn't include a bag to carry it in so it will need to be purchased separately.
Overall, if you're looking for the best cutaway acoustic-electric guitar, then this is a great option to consider.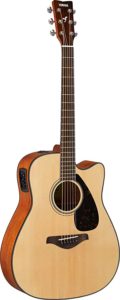 The Yamaha FGX800C Acoustic-Electric Guitar is another great budget guitar that is also very high-quality. This guitar comes in a variety of different styles and color choices to meet your every need. This product is designed to last and keep a great sound for years to come.
For the price point, this guitar is an excellent option. On the other hand, if you're an experienced guitarist you may be looking for something that has more style and flair to it.
Overall, however, this is a great acoustic-electric guitar and is quite a steal for under $400.


If you're looking for a great nylon-string acoustic-electric guitar, you can't do any better than the Ibanez AEG10NII. This nylon-string acoustic-electric guitar is beautifully designed and is constructed to be one of the most versatile guitars on the market.
The Ibanez guitar features a beautiful black finish with a white outline. It features a semi-acoustic pickup system that can play great music regardless of the style you like. This guitar works great with an amp but can also be played without one and will still sound just as good.
Choosing the Perfect Instrument for Your Needs
If you're on a tight budget and are looking for the best acoustic-electric guitars for under $300, the instruments above are all excellent choices. They all come with great features and unique designs that are sure to meet your needs. While these are all budget options for under $300, their quality hits well above their price point.
Are you still looking for the perfect acoustic-electric guitar? Check out this list of the overall best acoustic-electric guitars now.