Disclosure: Some of the links in this post are affiliate links. That means that if you click on a link and purchase an item, we may receive an affiliate commission at no additional cost to you. As an Amazon Associate I earn from qualifying purchases.
Searching desperately for the best electric upright basses? Want to have a great electric bass that will give you a full, bass sound?
An electric upright bass can be a great instrument to have if you're a dedicated bass player and they come with a lot of advantages over a traditional upright bass. While there are some great upright bass instruments out there, not all of them can be plugged in and easily used in performance situations.
With an electric standing bass, you'll not only be able to plug in easily for any on-stage situations but you'll also be able to easily transport your instrument from Point A to Point B. Whether you're making the switch from an electric bass guitar or from an acoustic upright bass, these instruments make for a great choice for dedicated bassists.
If you're looking for a great electric bass that you can buy for yourself, look no further. Below we'll give you our list of the very best electric upright basses on the market today.
Best Electric Upright Basses – Quick View
What Is an Electric Upright Bass?
An electric upright bass (EUB) is a musical instrument that works just like an acoustic upright bass. However, unlike the acoustic bass, the EUB is an electric instrument and can be plugged in for easy amplification and sound projection.
The electric upright bass serves as a great middle ground between a typical electric bass and a bulky standup bass and can be a great option to consider as a bassist. These instruments are great to use in concert settings since they can be plugged in and amplified easily.
In addition to being an electric instrument, the EUB features some other helpful advantages as well. One of the best things about the electric upright bass is that it is very compact. These instruments don't have the full bodies that acoustic upright basses have.
The EUB instead features a minimalistic body design that is slim, lightweight, and easy to carry. This makes the electric upright bass a great instrument for touring or traveling when compared to a bulky acoustic upright bass.
Electric Upright Bass Reviews – Our Top Choices
Ready to find the best electric upright bass for you? Here's a list of our top favorites.


The next bass on our list is the Stagg EDB-3/4 VBR Double Bass. This Stagg electric upright bass offers a great value for the money and you'll get a lot for what you pay.
Because of the price, this could be a suitable entry-level bass. However, this bass fiddle is very well-made and might be much more suited for professionals and advanced players who know their way around an upright bass.
The electronics in this bass are state-of-the-art and are specifically designed for double bass instruments. The electronics of this bass will be adequately quiet whether you'll be playing live or in the studio.
This is a 3/4 size instrument and it's also a violin burst double bass. The dot inlays are well located and look exceptional while the color and finish of this bass are second to none, and will be sure to turn plenty of heads.
Overall, this Stagg bass packs quite a punch and makes for another good selection for a bass player who's looking for an electrified upgrade. This is one of the best electric double bass instruments on the market these days.


Offering the level of quality you would expect from a company as well-respected as Ibanez, the Ibanez UB804 is an EUB that is well worth your consideration.
The 4-string electric upright bass features a beautiful maple and walnut body and neck as well as a high-quality jatoba fingerboard. The instrument comes with a sturdy and high-quality stand as well.
The instrument is known by players as being great to look at while also sounding just as good. If you need an excellent upright electric bass that is lightweight and easy to play, you can't go wrong with this beautiful Ibanez instrument.


While it's a bit pricier than some of the other instruments on this list, the Yamaha SLB300SK is another electric bass instrument that you need to take a closer look at.
This is a semi-solid body electric bass that features chambered spruce and mahogany body, a rosewood fingerboard, and a maple neck. The Yamaha bass is truly a great-looking instrument.
This is probably the best professional EUB that you can find for such a low price and is a cut above many of the others on the market. If you want a great double-bass instrument in a compact and ergonomic design, you should splurge a bit and buy the Yamaha SLB300SK.


The next upright bass on our list is the NS Design CR4T 4-String Electric Upright Bass. NS Design is a great company that makes exceptional upright bass instruments. This bass truly speaks for the company's level of quality.
The bass has a solid maple body and neck along with a figured maple top, an ebony fretboard, and a polar directional piezo pickup system. A free-standing tripod is also included with this bass instrument.
This is an instrument that is truly a good professional option and features a very impressive level of quality. The instrument is equipped with the proper scale length, bow ability, and fingerboard profile. The instrument is very portable and will serve any serious bassist well.
While being a great stand-up bass, its design is impressively modern. This electric upright bass is very ergonomic as well. This is not just an electric bass but also features a solid body that looks very attractive. The finish and the fit of this bass are pretty amazing and well justify the higher price tag.
Overall, this is a great upright electric bass that will give bassists the quality they deserve. If you're looking for the best electric upright bass, this should definitely be on your list of ones to check out further.


Another great bass by NS Design, the NS Design WAV Series Electric Bass comes with 5 strings and still offers quite a bit of value to bassists. While it's not quite as high-end as the previous model, this bass is surprisingly cheap. It costs a bit less than the instrument above and offers bassists a great value for a quality instrument.
The WAV Series Double Bass features the NS patented polar pickup system which offers players a smooth acoustic tone while plugged in. The instrument has a solid maple body and neck and also features a graduated rosewood fingerboard.
If you're looking for a high-quality EUB that offers a full tone at a reasonable price, this is one instrument that is well worth your consideration. It's the best upright electric bass you're likely to find in this price range.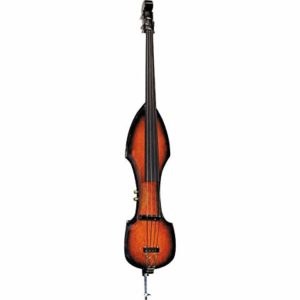 Another one of the best electric upright basses around, the Palatino VE-500 offers a lot to players.
This Palatino electric upright bass features a piezo transducer pickup that includes active tone and volume controls. The bass has an amazing sound that is authentic to the sound of an acoustic upright bass.
The fingerboard of this bass is extremely close to the real thing to provide excellent comfort and playability. This is a bass that aims to provide improved comfort and will be easy to play.
The string can be raised easily if you plan to use a bow. The electric bass also includes a headphone jack so that you can play late at night or without making too much noise.
The only complaint to note with this bass is that the bag that is included with this bass is a bit tight. Additionally, the battery cable is a bit on the flimsy side.
Overall, this Palatino bass would be another good pick for any bassist who wants a highly portable and easy-to-use instrument. This is really one of the very best electric upright basses around today.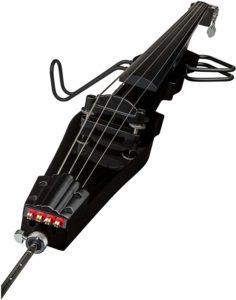 The Dean PA PACECCBK Pace Contra Upright Pace Bass is another amazing choice for serious bass players and professionals. This is a standard 35″ scale bass with a 6″ rosewood fingerboard that looks great.
This contrabass instrument has a great tone and excellent resonance as well. This upright bass can be bowed as well so you'll have plenty of versatility with this instrument. If you're planning to use this as a bluegrass instrument, however, you may want to lower the action a bit.
As for the drawbacks, this electric bass is a highly functional instrument, but it can be somewhat awkward to handle at times. Additionally, the gig bag that is included with this instrument is nice, but it could be a bit better as well as far as fit and security go.
Overall, however, this is another excellent upright bass that offers great value, meaning it may be a good choice for beginners, intermediates, or advanced bassists.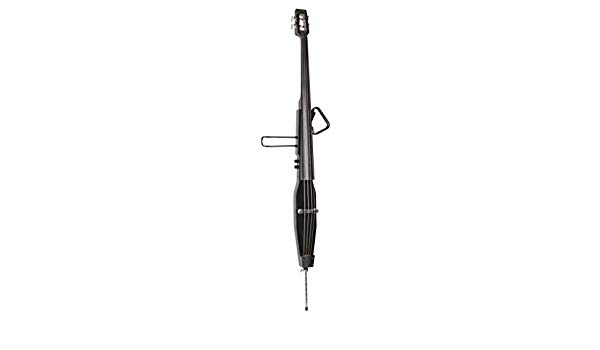 If you're looking for the best upright bass that also features electronics, the Lucky Penny Model EDB-BK Black 3/4 Size Electric Upright Double Bass is another worthy choice to consider.
This killer bass instrument features solid-body construction along with integrated electronics. The onboard volume and bass controls featured on this instrument will help you tweak your sound for the room you're playing in.
It's incredibly simple to plug in the instrument and get a great amplified sound. This electric bass features rich, natural tones and won't leave many bassists wanting more out of it.
The bass also includes 2 1/8-inch mini-jacks. You'll be able to easily connect your headphones to practice in silence. You can also plug in an mp3 player or sound source if you want to jam along with some music with your new bass.
Overall, this bass is an excellent upright option that will allow players to plug in and amp up easily.
Making the Decision to Buy a New EUB Instrument
If you're on a quest to find the best electric upright basses, you don't have to look much further than this list. You'll be more than satisfied with any of the electric bass instruments listed above and they'll be sure to serve you well if you're a skilled bass player.
Have you considered getting a small acoustic bass instead? Check out our list of the very best acoustic bass guitars now.