Disclosure: Some of the links in this post are affiliate links. That means that if you click on a link and purchase an item, we may receive an affiliate commission at no additional cost to you.
Looking for the best banjo for beginners?
Ready to get a little bit of that banjo twang in your life?
The banjo is one of the most interesting stringed instruments out there and offers a unique sound that has a lot of character.
While the banjo does have a bit of a negative connotation for some folks, thanks to a little movie called Deliverance, there's no denying that the instrument is one of a kind and has a charm that can't be beaten. It's easy to see why, at this point, it has made its way into all types of musical genres.
If you're looking for the best beginner banjo out there, you're in the right place. Below we'll give you our list of the very best banjos for beginners.
Best Banjo For Beginners – Quick View
Things to Consider Before Buying Your First Banjo
Depending on what you may or may not know about the banjo already, this section may be of interest to you. There are a few things you'll want to make sure you think about before getting on with your purchase and getting your new beginner banjo.
5-String vs 4-String
The first thing you need to consider is whether you want to get the 5-string or the 4-string banjo.
For a large majority of people, the 5-string is the one that you will likely be interested in. The 5-string is the type of banjo that is typically heard in bluegrass, folk, country, jazz, classical, and rock music.
A 4-string banjo, on the other hand, is more often used for Dixieland and Irish music
There are other options for the number of strings you can find on a banjo. There is the 6-string banjo, which plays like a guitar, the banjo ukulele, the banjo mandolin, and many more interesting options.
However, the 4-string and the 5-string banjo are the most commonly used and you're probably looking for one or the other if you landed on this page.
In this list, we'll be looking specifically at the 5-string banjo.
Open Back vs Closed-Back/Resonator
Another thing you need to think about is whether you're looking for an open back banjo or a banjo with a closed back resonator.
The open back banjo offers a bit less volume than a closed-back banjo and is a lot more commonly used in old-time music where a banjo needs to fit in a bit more rather than rise above the noise.
Closed back resonator banjos are much louder. The resonator is what allows the banjo to ring out so loudly in a bluegrass band as well as other types of music.
Left-Handed vs Right-Handed
Before buying a banjo you also need to decide if you want a left-handed or right-handed option. Banjos are set up very differently depending on which of your hands is dominant. Especially with 5-string banjos, it's absolutely crucial that you get one that works with your dominant hand.
Best Beginner Banjo – Our Top Choices
Alright, ready to get started. Here is our list of the best banjos for beginners, each of which is great for learning on.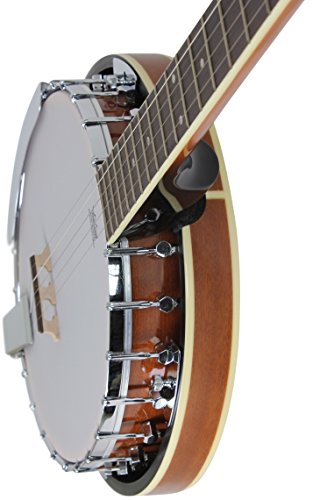 The Jameson 5-String Closed-Back Banjo is our top banjo choice and for good reason. This banjo offers the perfect mix of high-quality features, an excellent sound, and an affordable price.
This is a closed-back banjo so the sound really rises above the noise and the resonator offers a great clear sound. The banjo also features a geared 5th tuner.
The banjo is really affordable compared to a lot of the other options out there and this allows you to get started on the banjo easily without the need for a large investment upfront.
Overall, you can't go wrong with this banjo if you're looking for a great beginner instrument that truly stands out.


The Deering Goodtime 5-String Banjo is one of the most popular open back banjo options for beginners and offers everything you need to get started out on the right foot. The banjo has high-quality construction and great intonation, which will help ensure that you're always sounding your best.
A sharp and crisp tone comes out of this banjo and you'll love the way the slim 22-fret maple neck feels when playing. The banjo is very comfortable to hold and feels great to play.
This banjo offers a lot of features and a great sound, however, the only drawback is that it comes at a price. This is one of the most expensive beginner banjos on our list.
Despite this, however, we highly recommend this banjo for anyone looking to get started on the instrument while sounding great and being comfortable.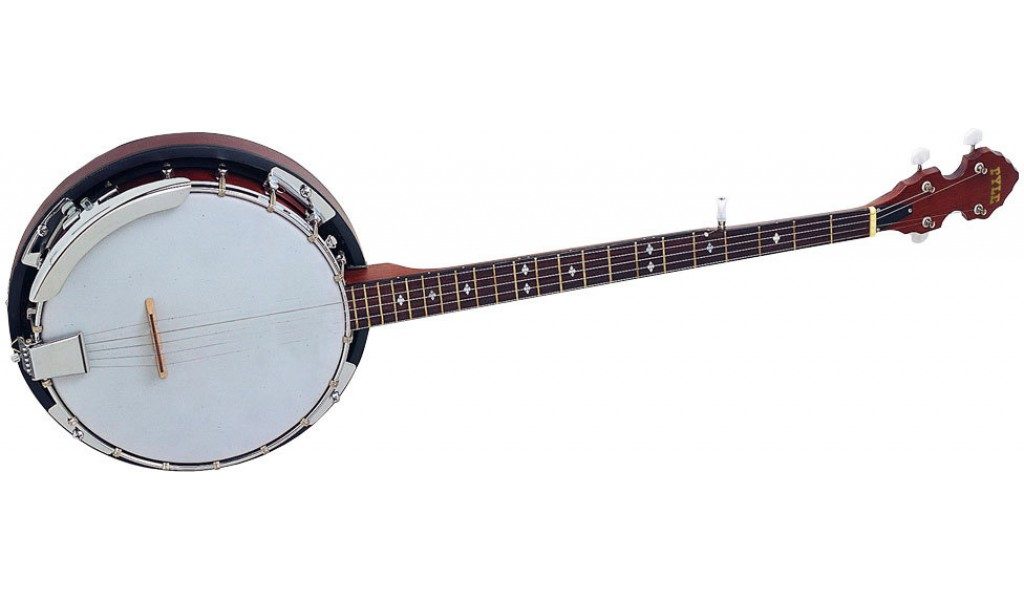 The Pyle-Pro PBJ60 Banjo is another great choice for beginners, and along with the Jameson banjo we mentioned above, is also one of the most affordable options out there.
The banjo features a mahogany neck, sides, and back, along with a gorgeous rosewood fingerboard. The banjo also has a nice maple wood bridge and chrome plated hardware.
Another great thing about this banjo is that it is very lightweight. If you're looking for a banjo you can take traveling with you, this may be the banjo you're looking for.
Overall, if you're looking for a great and very playable banjo that is also quite affordable, this Pyle PBJ60 Banjo may be just what the doctor ordered. If you need the best banjo for beginners, this is a great choice.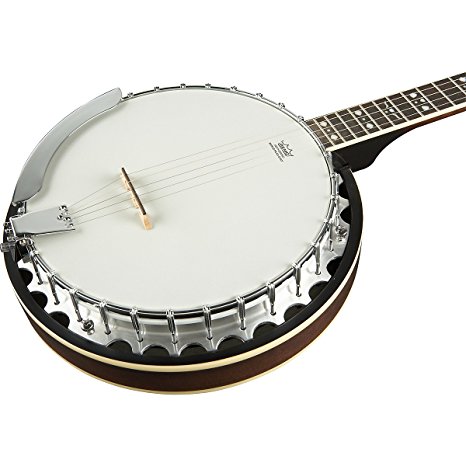 The Epiphone MB-200 Banjo is another great option for beginners. Epiphone is a trusted brand that is well-known for its guitars but the brand's banjos are also top-notch.
This particular banjo features a lot of good features and great craftsmanship. The geared tuner on this banjo is particularly nice, and the mahogany body and rosewood fingerboard look great.
The banjo features a loud clear sound due to the included resonator back. It sounds great from the get-go and is a great well-rounded banjo option. The banjo is also very lightweight and would work great as a travel instrument.
The instrument has a nice tone and sounds exactly like a 5-string banjo should. You also have a lot of control over the sound of this banjo as it is very adjustable.
The only drawback to this banjo, however, is that it is a bit on the pricey side.
Nonetheless, this banjo would satisfy any beginner or intermediate player and is another excellent option to consider if you're on the hunt for a well-rounded instrument.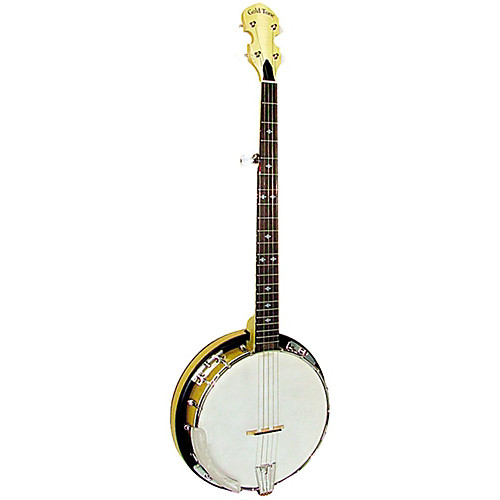 The Gold Tone CC-100R is another great banjo option that serves as a well-rounded option if you're looking for the best banjo for beginners. Gold Tone is a very respected brand and the company did a great job on this banjo.
The instrument has some excellent features and is well-made to offer both a good sound and easy playability. This banjo has some really nice hardware included on it including geared tuners, a tone ring, two coordinator rods, and an adjustable tailpiece.
Both beginners and advanced banjo players will likely find a lot to love in this banjo. The banjo offers a lot of value for its price, however, it should be noted that this banjo is among the most expensive on our list.
However, if you've got the money to spend and really want to start out with the best, the Gold Tone CC-100R banjo is a great option for you.


The Oscar Schmidt OB5 Banjo is a well-designed banjo that is sure to please your ears, fingers, and eyes. If you're looking for the best banjo for beginners, you'll want to find out more about this Oscar Schmidt instrument.
The banjo has a gorgeous look and features a rosewood fingerboard, a gloss finish, and a mahogany resonator. The instrument features 22 frets and a 30-bracket cast-aluminum tone ring.
The banjo also sounds great and easily stays in tune due to the high-quality geared 5th string tuner. The instrument is a great starter banjo and is pretty hard to be disappointed with once you have it in your hands.
However, it is somewhat on the pricier side.
Overall, though, this is another excellent banjo that you can choose from that really will not disappoint.
Final Thoughts
If you're looking for a reliable high-quality banjo to start learning on you really can't go wrong with any of the above options. The banjos are above are the best of the best when it comes to great beginner banjos.
It's important to get your banjo journey started off right, so take your time, and decide on the best option for you and you may just be playing the banjo for years to come.
Is a banjolele more your style? Check out our list of the best banjo ukuleles now.