Disclosure: Some of the links in this post are affiliate links. That means that if you click on a link and purchase an item, we may receive an affiliate commission at no additional cost to you. As an Amazon Associate I earn from qualifying purchases.
Can't get enough of the accordion? Wondering who the best accordion players in the world are?
The accordion is one of the most fascinating and unique instruments out there, and while many have attempted to master its sound over the years, far fewer have succeeded. Fortunately, there are some accordionists who have done a great job with the instrument and have risen above the rest.
Whether you aim to buy a great beginner's accordion and start playing the instrument yourself or you simply enjoy listening, there are some great players you should check out.
In this article, we'll give you our list of the 7 best accordion players of all time.
1. Lawrence Welk (1903-1992)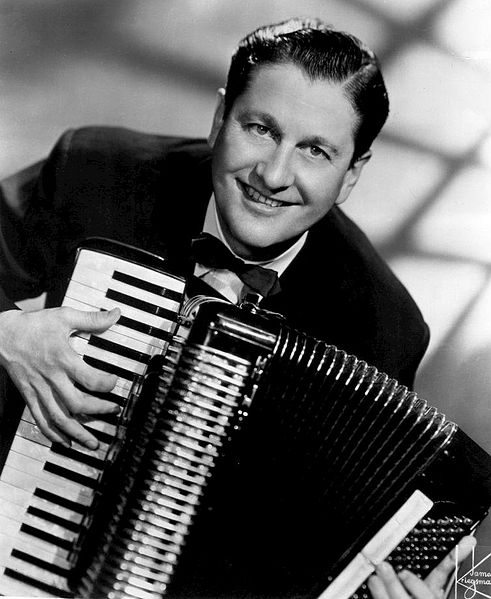 Considered by many to be the greatest accordion player of all, Lawrence Welk's name is synonymous with the instrument.
Starting in the 1950s and extending until the 1980s, Welk was a true professional who also garnered a lot of attention during his career. For three decades, Welk hosted The Lawrence Welk Show.
In his show, Welk's band took front and center and he performed numerous songs for audiences who tuned in. Welk also released many memorable singles including Colorado Sunset, Cinco Robles, The Beat Goes On, and many more.
The type of music performed by Welk and his band even has a special name, "Champagne Music", because it is so distinctive and recognizable.
Despite being a great entertainer, don't think that Welk's accordion skills weren't up to snuff. He was truly one of the best accordion players in the world. He was a gifted and well-versed accordion player who any aspiring player of the instrument will do well to learn from.
2. Guido Deiro (1886-1950)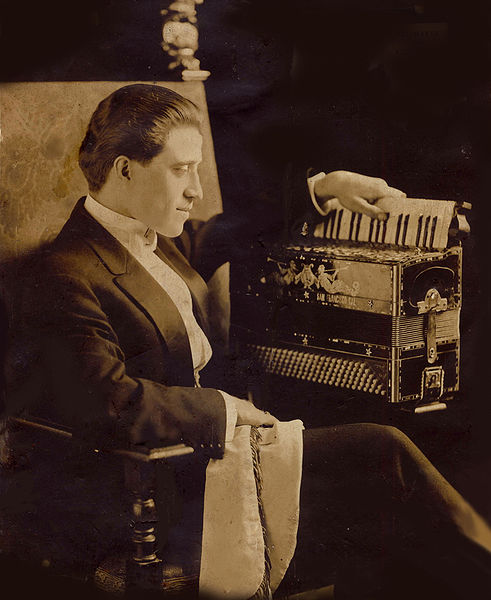 Another one of the world's most famous accordion players, Guido Deiro's place on this list is well-earned. Deiro was born in 1886 and had an illustrious career as an accordionist, a composer, and a teacher.
Deiro was also the first accordion player to appear in Vaudeville shows, as his heyday coincided with that of the now all-but-extinct American entertainment art form.
Showing mastery for the instrument in his many performances around the country, Deiro helped bring the accordion into the heart of American culture in the early 1900s.
3. Nick Ariondo (1950s-)
Nick Ariondo is another musician who has made significant contributions to the legacy of the accordion.
Throughout his career, Ariando spent significant time collaborating, composing, playing, and furthering the instrument through his time with the instrument. He has won numerous awards over the years and has performed with all kinds of well-known artists.
Worth noting is that Ariondo has two Grammy Awards that he won when he collaborated with the Los Angeles Orchestra and he has also won more than 20 awards from ASCAP as well. On top of this, he has collaborated with both Paul McCartney and Placido Domingo. He has also done a lot of work in the film industry as well.
4. Henry Doktorski III (1956-)
One of the best classical accordion players of all time, Henry Doktorski III is a name that's well worth knowing. Many people consider him to be the best concert accordionist, and starting at age 12, his career has been pretty impressive.
Doktorski performed with the Pittsburgh Symphony Orchestra as an accordionist for 10 years where he also played the piano, the celesta, the organ, and the harpsichord. He has also collaborated with many other orchestras as well including the Cleveland Chamber Symphony, the New Philharmonic Orchestra, the Pittsburgh Civic Light Opera Orchestra, and more.
As you would imagine, Doktorski's repertoire is also quite impressive and has included music by Bach, Cole Porter, Henry Mancini, Piazzolla, and many others.
5. Friedrich Lips (1948-)
Friedrich Lips is another great accordion player and is truly one of the best accordion players in the world. Few people have stretched the sound of the instrument and had quite an influence on the accordion as he has.
Born in Russia in the late 1940s, Lips has a long list of professional accomplishments and has gained renown across the world during his career.
Friedrich Lips is particularly well-known as a bayan-accordion master and his repertoire is full of technical depth and incredible breadth. Few people have matched the same expressiveness and technical playing as what appears on Lips' recordings and in his performances.
6. Myron Floren (1919-2013)
Myron Floren is also a name that you should definitely know in the accordion world. As a principal accordionist on The Lawrence Welk Show, Myron Floren did a lot to bring the instrument forward and to strengthen its popularity.
Floren was a gifted musician who was incredibly versatile and he was a master of many different styles. Starting his mastery of the instrument at 6 years old, Floren could equally dazzle audiences with a polka or a Bach cantata.
The accomplished accordion player did a lot to further the instrument and he remains one of the best players of all time. Be sure that you listen to his catalog if you want to hear some amazing accordion music.
7. Michael Guerra (1981-)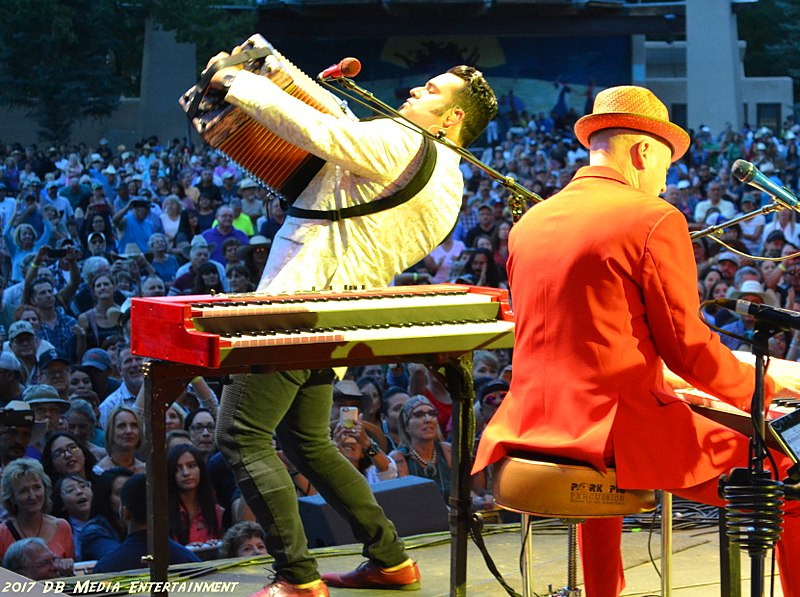 One of the best accordion players who has been growing prominence in recent years, Michael Guerra is a force to be reckoned with. Guerra is a button accordion virtuoso and is one of the best accordion players in the world.
Guerra has performed quite a bit in recent years and has released some amazing work both solo and with many bands, including Los Tex Maniacs, The Mavericks, and Raul Malo. He has been continually involved in producing film and TV scores as well and is also a music producer, studio musician, and singer-songwriter.
If you want to hear some of the best accordion music that's being created today, be sure that you check out Michael Guerra.
Final Thoughts
The final verdict is still out on who the "one and only" best accordion player of all time is. However, it's likely one of the players on the list above. Be sure that you listen to these great accordion players if you can't get enough of this unique and beautiful instrument.
Want to start making music on the piano accordion yourself? Check out this post to find out about the best beginner options now.