Disclosure: Some of the links in this post are affiliate links. That means that if you click on a link and purchase an item, we may receive an affiliate commission at no additional cost to you. As an Amazon Associate I earn from qualifying purchases.
Looking for the best travel guitars? Taking a trip soon and want to keep making music while on the go?
For any musician who is also a traveler, it can be difficult to be without your instrument when traveling. On the other hand, if you do decide to bring your instrument along it can be a huge hassle trying to fly with a guitar while navigating airline standards and regulations. It can be nervewracking to depend on an airline to keep it safe, and you can be worried about it getting damaged in transit.
If your guitar does make it to the destination undamaged, it can still be a hassle trying to lug around your full-sized guitar along with you. Still, many of us would love to be able to relax on the beach, at a campsite, or in a hotel room and unwind by playing our guitars while on vacation.
If you're looking for an easy way to bring your guitar with you on vacation, you're probably looking for the best travel guitars for your trip. These guitars are much more portable and manageable than regular guitars are. With a travel guitar, you'll be able to easily play music while on the go.
But not to worry, below we'll go over the 5 Best travel guitars under $400 that will help you travel with ease.
How to Choose a Travel Guitar
When you think about travel guitars, you may simply be thinking of guitars that are smaller than normal guitars and extremely portable, such as the many 3/4 size guitars that are available.
However, there are many other factors you will want to consider when choosing a travel guitar. You will want to consider other aspects such as durability, quality, volume, and more.
A great travel guitar will be ideal for using in harsher environments or bringing onto the beach for a sing-along around a bonfire.
You'll also likely want a guitar that can be easily heard unless you're mostly just looking for an instrument to practice on.
What Are the Advantages/Benefits of a Travel Guitar?
There are many advantages to buying a travel guitar in addition to the guitar that you use while at home.
If you're traveling to a beach, camping in the forest, going through airline travel, riding buses, or using other transportation methods, you may not want to bring your prized $1000 guitar with you. If you do, you may run the risk of it getting damaged or stolen or undergoing possible accidents while on the plane.
A travel guitar will be more durable and also smaller, meaning you can take it with you without as much fear. It will also be much easier on your body to carry a lightweight and portable instrument around instead of a larger guitar.
You likely have a lot of bags to deal with already. In addition to clothes and other items, it can be a hassle to carry a big guitar around with you as well.
Additionally, while buying a great ukulele can offer a portable option for making music on the go, experienced guitar players know that it isn't quite the same. Most guitar players will prefer to have all 6 strings at their disposal while on their trip.
Things to Look For in Travel Guitars
When getting a travel guitar, it is important to consider what your needs are. Different varieties of travel guitars exist and have qualities that may or may not be important to you.
Travel guitars are available in a variety of shapes and sizes. Some guitars will be acoustic, and there are also acoustic-electric and electric travel guitars as well.
Although, if you purchase an electric travel guitar you will also need to bring an amp with you as well.
There are also guitars such as the Martin Backpacker which have a thin, portable, unique, and stylish design. Some of these guitars are even collapsible.
Consider what you need the most when purchasing one of these instruments and decide what size you're looking for.
Problems With Travel Guitars
Unfortunately, there are drawbacks to traveling guitars as well. They often don't have the same amount of resonance that a regular-sized guitar will have.
Some people with large fingers may have issues with using travel guitars. They are smaller than standard guitars.
It can be harder to fret chords in the same way that you would on a standard guitar, which can be frustrating. It can take some getting used to, in order to start playing on a travel-sized guitar instead.
They can also be a bit difficult to hold while playing compared to a bigger guitar. You may also fear that you look a little childish with such a small guitar!
While a travel-sized guitar may have some shortcomings compared to a standard-sized guitar, it can still be incredibly useful for its particular purpose. Some can be surprisingly loud and of high quality.
5 Best Travel Guitars Under $400… REVIEWED
Now that you know some of the best things to be looking for in a travel guitar and why you would want one, we'll get down to our top picks of these instruments.
There are a variety of guitars on this list, but each one is considered perfect for travel. These all have a good sound and other qualities that make them perfect for taking along with you on an adventure.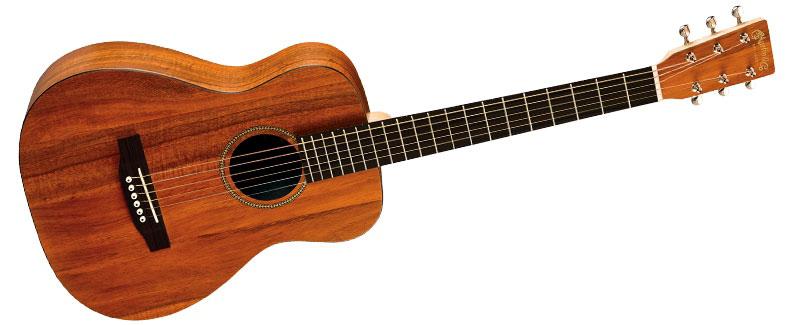 Pros:
Multiple Options
Good Bass
Cons:
More expensive than other options
Seven different models exist for the little Martin guitar, and this instrument has a richer bass sound than many other options.
Although it doesn't completely sound like a full-sized guitar, the Little Martin comes pretty close. As long as you have a great guitar pick in your hands, this little guitar will serve you well during your travels.
It features laminate wood in its construction, but a solid-top option is available as well. The Little Martin also comes with a padded gig bag.
Overall, this is a pretty great travel guitar that is well worth the higher price tag.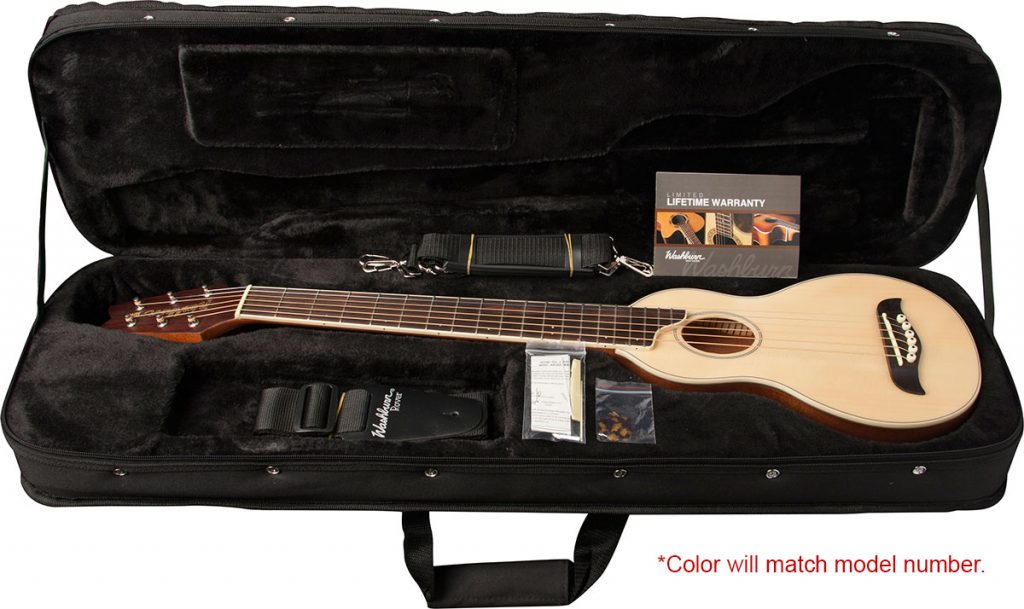 Pros:
Lightweight
Excellent Sound Quality
Almost Full size
Cons:
Neck weight awkwardness
Some complaints about the smell
The Washburn Rover is a compact guitar with a full 24-inch scale. It has a solid spruce top, mahogany body, and neck as well as a rosewood fingerboard.
This travel guitar is very lightweight and provides excellent sound quality compared to other options. The guitar only weighs 2.5 lbs. It's not as small as some other travel guitars and is almost a full size.
Unfortunately, some users have complained about the Washburn Rover having a strange smell. Another disadvantage is that the guitar's neck weighs a bit more than the body, making it somewhat awkward to hold.
Overall, however, the Washburn Rover is an excellent choice for those looking for a great travel instrument.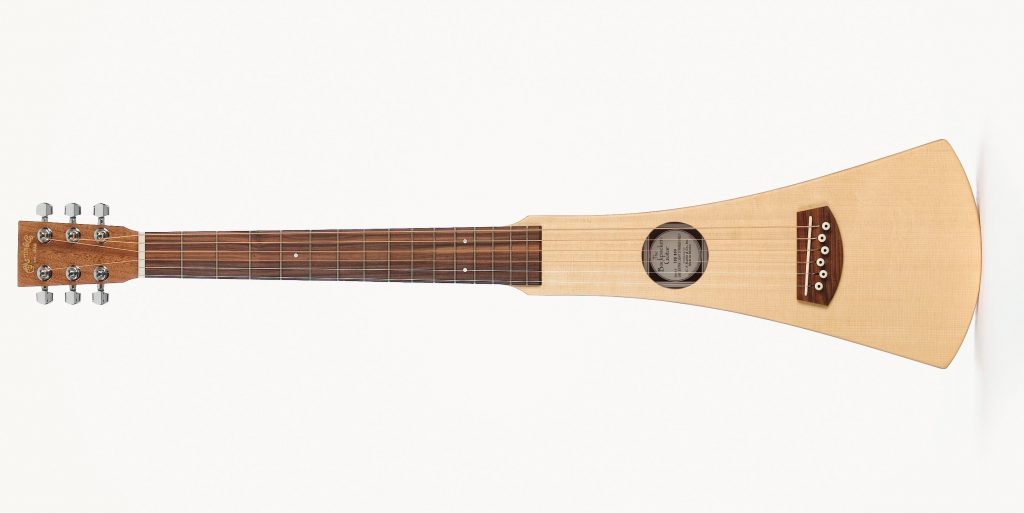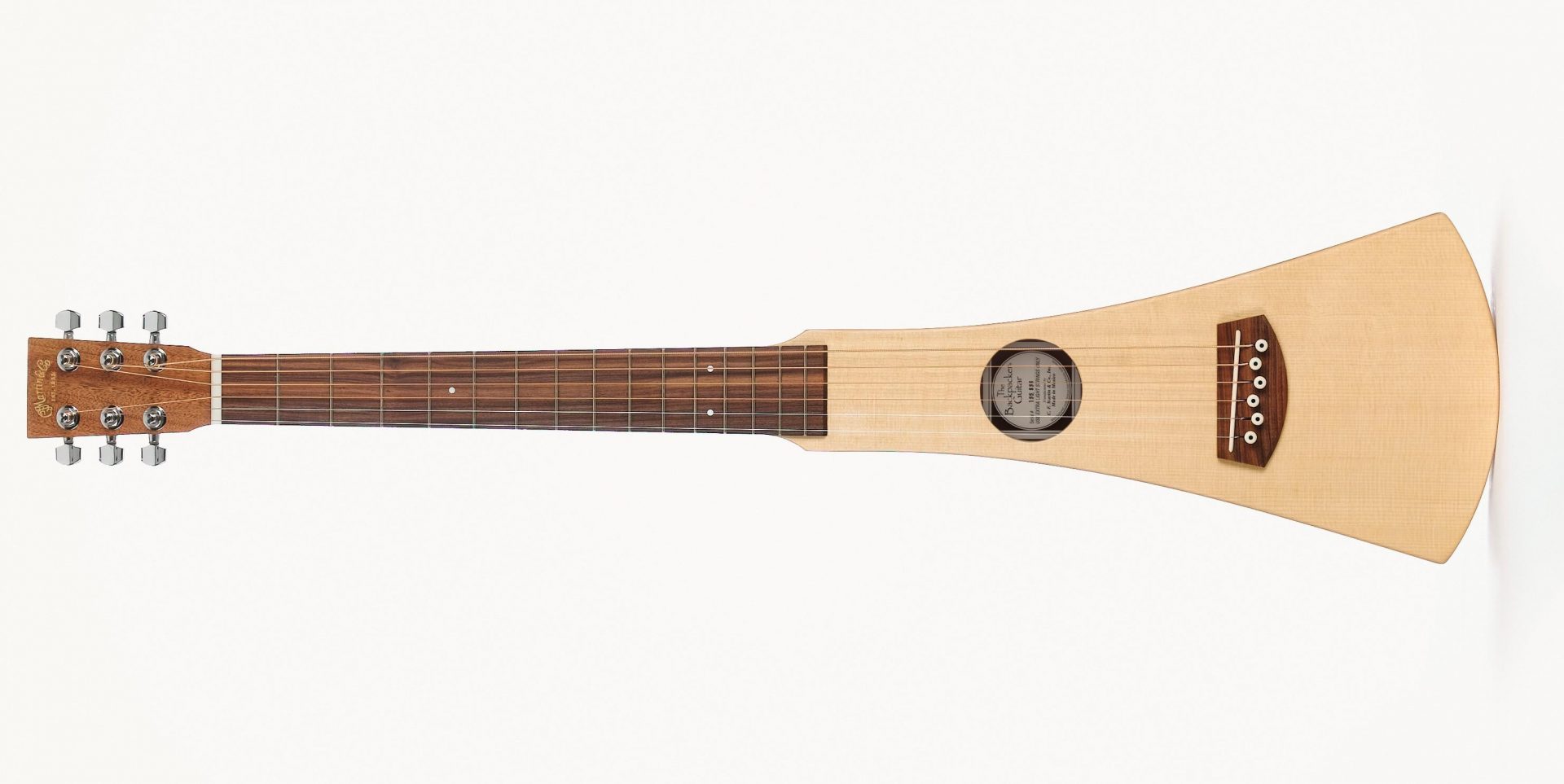 Pros:
Nice Sound
Sturdily made
Unique shape
Cons:
Can be somewhat awkward to hold,
The neck is heavier than the body
The Martin Backpacker is a very popular choice for a travel guitar and has a unique look that is very portable. It is one of the best travel guitars that you can find.
The Backpacker also features a solid spruce top and tone-wood sides. The guitar gives off a surprisingly resonant sound for its size, although it still doesn't quite compare to a full-sized guitar.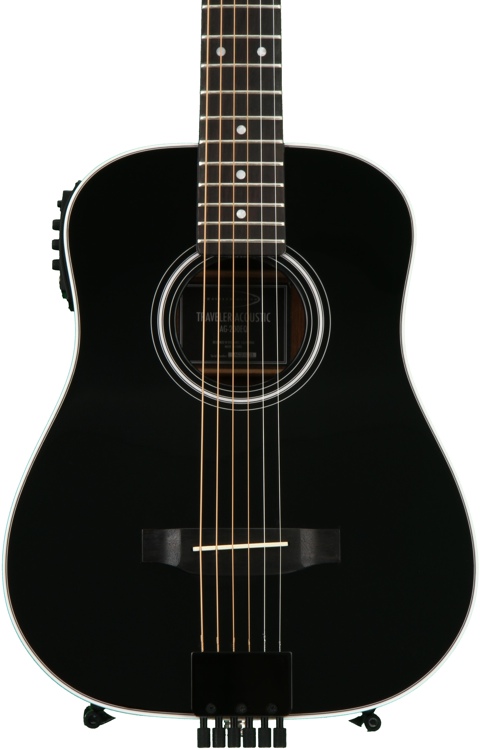 Pros:
More volume than you'd expect,
Good projection,
Built-in headphone amp,
Built-in tuners
Cons:
Tuners stick out a bit,
Shows dust and smudges easy
If you're looking for an acoustic-electric travel guitar, then the AG-200EQ is a great option for you. The portable guitar has a full scale and weighs only 3.5 lbs, making it great to take with you on the go.
It has a headless neck and can fit well in overhead bins. The guitar features a 1/8″ aux-in jack and is one of the largest portable guitars available.


Pros:
Electric Guitar
Portable
Easy to play
Cons:
Expensive
Restringing somewhat difficult
The neck is a bit too wide
The Speedster guitar is the only electric guitar option on this list and has a full 24-inch scale and an incredibly unique look. The guitar features a maple neck and body and a high output dual rail humbucker. The guitar only weighs 4.5 lbs.
The Speedster also features in-body tuners and has made for performance chrome hardware and a detachable upper armrest. As an electric option, you can't get much better than the Speedster. If you're feeling especially adventurous on a trip, this guitar can give you the best option to rock out with guitar pedals or an electric guitar amp.
Final Thoughts
There you go, the five best travel guitars that you can buy. All of these guitars may be just what you're looking for when taking your next big trip.
While there are a lot of other great options out there, these are the best of the best. These are the best travel guitars that offer everything you need to keep making music on vacation and have an excellent time while keeping your wallet happy as well.